Juniper Bonsai Tree - Trained (juniper procumbens nana)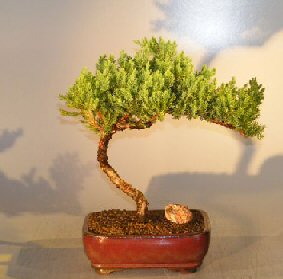 Sale Price: $89.95

From Bonsai Boy of NY
View User Comments
Juniper Bonsai Tree - Trained (juniper procumbens nana)
This dwarf Juniper from Japan is the most popular evergreen in the U.S. When we think of a traditional bonsai and what it should look like we think of a "Juniper Procumbens Nana". They are very hardy, long-lived and tolerate many adverse conditions. Trained style.
You may also be interested in these related Bonsai Trees and supplies:

Seven (7) Tree Forest Group Norfolk Island Pine - Forest Group
- Sale Price: $129.95
Open and airy conifer (cone bearing) with light green foliage turning darker with age. One of the best known trees from the South Pacific. Will tolerate warm temperatures and does not even object to dryness, although it does not like glaring sunshine. Decorates well for any holiday or season. Very easy indoor care.

Flowering Princess Earrings Bonsai Tree - Small (dichrostachys cinerea)
- Sale Price: $29.95
A small semi-deciduous tropical tree native to South Africa. It is also known as Bell Mimosa, Chinese Lantern or Rabbit's Foot Acacia. The word 'dichrostachys' means '2 colored spike' and 'cinerea' refers to its greyish hairs. The delicate pink and yellow inflorescens resembles precious earrings hanging from a tree. The flower starts off pink and the next day it fades to white. Can produce blooms almost year round in full sun. The fruit and seeds that are produced are edible and the flowers can be a valuable source of honey. Wonderful flowering bonsai for indoors.

Bonsai Display Table -11.0 x 7.0 x 3.5
- Sale Price: $69.95
Beautifully hand-crafted Pecky Cypress display table. The pecky effect is a kind of sculpturing process which has been produced by nature. Once the tree has been harvested, the causative agent within the tree completely disappears leaving only the characteristic pocketing it formerly created. The beautiful grains of knotty effects will serve to enhance the beauty of your favorite bonsai tree.

Flowering Water Jasmine Bonsai Tree - Extra Large (wrightia religiosa)
- Sale Price: $125.00
The Water Jasmine, wrightia religiosa, is the material most often used for bonsai in Malaysia. It is widely planted as a hedge tree in southeast Asia countries because the wrightia is twiggy and is used for medicinal purposes. The Water Jasmine loves the heat and prefers as much direct sun as possible. It can be semi-deciduous during winter if not kept above 65 degrees Fahrenheit. The flowers are white, pendulous, and fill a room with a very lovely fragrance. Long, green bean-like seed pods follow flowering if insects pollinate the flowers.

Ceramic 6-Sided Pavillion Figurine - 1 1/2
- Sale Price: $6.95
Ceramic Figurine. 1 1/2" 6 sided Pavilion.
User Comments:
There are currently 0 comments.