Juniper Bonsai Tree - Trained (juniper procumbens nana)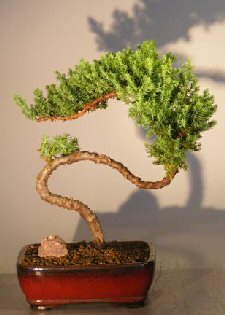 Sale Price: $89.95

From Bonsai Boy of NY
View User Comments
Juniper Bonsai Tree - Trained (juniper procumbens nana)
This dwarf Juniper from Japan is the most popular evergreen in the U.S. When we think of a traditional bonsai and what it should look like we think of a "Juniper Procumbens Nana". They are very hardy, long-lived and tolerate many adverse conditions. Trained style.
You may also be interested in these related Bonsai Trees and supplies:

Shimpaku Juniper Bonsai Tree - Trained (juniper chinensis)
- Sale Price: $89.95
The Japanese Shimpaku Juniper is a needled evergreen tolerant of a wide variety of soils and is dioecious which means that there are separate male and female plants. Shimpaku is a naturally irregular vase shaped Juniper which we have trained in the traditional bonsai style that has a shaped trunk and deadwood in the form of Shari. The Shimpaku has attractive year round foliage and its dark green needles are soft to the touch. Very popular and easy to care for bonsai.

Flowering Holly (ilex)
- Sale Price: $49.95
The holly has alternate glossy leaves, typically with a spiny toothed or serrated leaf margin. It has four small petal flowers from greenish to white in color. Pollination is done by bees or other insects. The fruit is a berry, usually red to brown but rarely green or yellow which ripens in winter. Offers a pleasant color contrast with the color of the foliage. The fruits are a very important food source for birds and other wild life and in winter the Ilex is an important source of food and shelter.

Fertilizer Miracle Gro Granules 8 oz.
- Sale Price: $7.95
Miracle Gro granular fertilizer. Excellent all-purpose fertilizer. Simply add one teaspoon to a gallon of water and apply monthly.

Two Frog Miniature Figurines 5.0x2.0x2.0
- Sale Price: $14.95
Two Frog miniature figurines

Japanese Flowering Quince Bonsai Tree (chaenomles 'toyo-nishiki')
- Sale Price: $69.95
Rare combination of red, white or pink flowers (or a combination of these colors) compose a rousing floral display in late winter and throughout early spring. Prized in Japan for bonsai, jam making and for it's large colorful blooms. Deciduous. Keep outdoors.
User Comments:
There are currently 0 comments.