Juniper Bonsai Tree - Trained (juniper procumbens nana)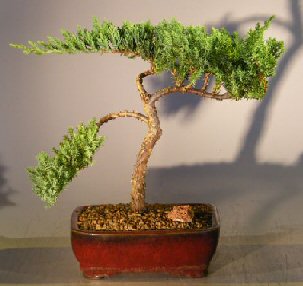 Sale Price: $89.95

From Bonsai Boy of NY
View User Comments
Juniper Bonsai Tree - Trained (juniper procumbens nana)
This dwarf Juniper from Japan is the most popular evergreen in the U.S. When we think of a traditional bonsai and what it should look like we think of a "Juniper Procumbens Nana". They are very hardy, long-lived and tolerate many adverse conditions. Trained style.
You may also be interested in these related Bonsai Trees and supplies:

Flowering Top Hat Blueberry Bonsai Tree (vaccinium corymbosum argustifolium)
- Sale Price: $39.95
Our dwarf Top Hat Blueberry is native to northern and alpine North America. Loaded with small white blooms in spring followed by sweet full size 1/2" delicious, edible blueberries. It has a harvest season of one month starting in early August. Self pollinating. Only 18" when fully grown. The foliage turns a bright red color in the fall. It's small, glossy leaves, gnarly trunk and slow growth make this the best edible bonsai. Deciduous. Keep outdoors.

Pre Bonsai Juniper Bonsai Tree-Small (Juniper Procumbens nana)
- Sale Price: $8.95

Fukien Tea Bonsai Tree Three Tree Forest Group (ehretia microphylla)
- Sale Price: $39.95
Native to the Fujan province of China. This tree has small white flowers that can bloom at any time. The foliage is dark green and small in size. The flowers turn into red berries that turn darker with age. Loves the heat and does great indoors.

Miniature Figurine: Man Eating a Peach Blue and White Color- Fine Detail
- Sale Price: $5.95
Miniature Figurine Man Eating Peach- Blue and White Color with fine Detail

Flowering Sea Grape (coccoloba uvifera)
- Sale Price: $49.95
This Sea Grape is an evergreen flowering tree in the buckwheat family that has large, round, leathery leaves with a primary vein that has a red color extending from the base and the entire leaf turns red as it ages. This Sea Grape is native to the Caribbean and tropical America. The bark is smooth and yellowish. In late summer it bears green fruit ( 0.75) in diameter, in large, grade-like clusters. The fruit gradually ripens to a purplish color. Each contains a pit that constitutes most of the fruit. Great for indoors. Be sure to keep warm and in a sunny location.
User Comments:
There are currently 0 comments.