Juniper Bonsai Tree - Phoenix Graft (juniper procumbens nana)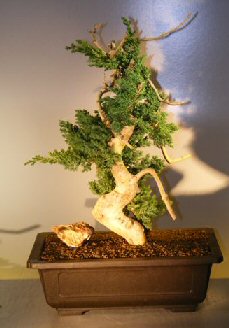 Sale Price: $250.00

From Bonsai Boy of NY
View User Comments
Juniper Bonsai Tree - Phoenix Graft (juniper procumbens nana)
This dwarf Juniper from Japan is the most popular evergreen in the U.S.A. When we think of a traditional bonsai and what it should look like, we think of a "Juniper Procumbens Nana." It is very hardy, long-lived and tolerates many adverse conditions. Trained as a Phoenix Graft.
A Phoenix Graft is the name commonly given to bonsai known as Tanuki. "Tanuki" is the Japanese word for "Badger." In traditional Japanese folklore, this animal is responsible for playing tricks on people, so when a Tanuki is involved, nothing is quite what it appears. A Tanuki bonsai is a living tree "grafting" to a section of deadwood, often from another species entirely. The effect can be impressive. Most Tanuki, in order to make use of a lifeless trunk, are styled in the driftwood style. Tanuki are also called "Phoenix Grafts" after the mythological Phoenix which arose from its own ashes.
You may also be interested in these related Bonsai Trees and supplies:

Flowering Mount Fuji Bonsai Tree Water/Land Container - Medium (serissa foetida)
- Sale Price: $49.95
The water pot is divided into two sections. On one side we plant the flowering Mount Fuji Serissa which blooms easily and is great for indoors. On the other side of the planting is a well. We include a fisherman figurine, along with a fishing pole, line and ceramic fish.

Trident Maple Bonsai Tree (Acer Buergerianum)
- Sale Price: $49.95
Well known for the superb colors of its foliage in autumn (fall). The bark is a dappled pale brown and exfoliates with age revealing a grey orange and brown color. The small leaves (which resist scorching during drought) have 3 short lobes close together - hence the name Tri-dent. The spring flowers are inconspicuous and the new growth is often bronze to purple. Deciduous - Keep outdoors. Available 12 months a year. Will have no foliage during winter months.

Ceramic Bonsai Pot - Oval 17.5x13.5x4.5
- Sale Price: $108.00
Imported glazed Chinese pot, dark moss green, oval

Professional Bonsai Wire Cutters Made in Japan
- Sale Price: $129.95
These wire cutters are designed specifically for removing bonsai wire. Although enthusiasts new to bonsai sometimes substitute standard wire cutters, these are designed with a rounded head to prevent damage to the trunk and branches when removing wires. The jaws of the cutters cut the wire symmetrically and cleanly. Highly recommended for bonsai enthusiast. 8.0" overall.

Humidity/Drip Bonsai Tray - Oval Measures: 17 x 12 x 1.5
- Sale Price: $19.95
A finishing, practical addition to your bonsai living sculpture. Not only do they visually enhance the placement of your tree, but humidity drip trays make watering simple, provide essential humidity for your tree and protect furniture from stain and damage.
User Comments:
There are currently 0 comments.