Juniper Bonsai Tree - 8 - Preserved Bonsai Tree (Preserved - Not a living tree)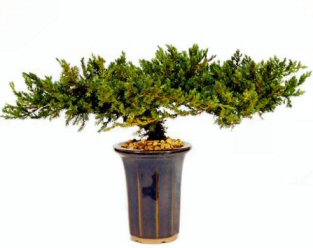 Sale Price: $54.95

From Bonsai Boy of NY
View User Comments
Juniper Bonsai Tree - 8 - Preserved Bonsai Tree (Preserved - Not a living tree)Please allow up to 14 days for delivery.
Neither plastic nor silk, this preserved bonsai tree has real foliage and a real wooden trunk that was carefully handcrafted and preserved to protect its natural fragrance, color and texture indefinitely. No watering, trimming or maintenance is required. With its timeless beauty evoking a feeling of nature, this accent piece accommodates any architectural setting. Our one-of-a-kind preserved bonsai is planted in a traditional glazed imported ceramic container. This is the ultimate in environmental control.
You may also be interested in these related Bonsai Trees and supplies:

Flowering Podocarpus Bonsai Tree - Styled (podocarpus macrophyllus)
- Sale Price: $59.95
AKA Buddhist Pine or Chinese Yew. Podocarpus is a dense evergreen with pointed, leathery, dark green leaves arranged on stiff, symmetrical branches. The tree which is unisexual, has male flowers in cones and female flowers composed of cylindrical thickened scales. The fruits often edible, are pedunculate, fleshy and brightly colored. New foliage comes in a light green color that turns darker with age. Our trees are trained in the traditional bonsai style. Grows very well albeit slowly indoors.

Japanese Five Needle Pine Seeds
- Sale Price: $4.95
Propagation instructions are included with each packet.

Japanese Kingsville Boxwood Bonsai Tree (buxus microphylla compacta)
- Sale Price: $325.00
Native to Japan the Kingsville Boxwood is an extremely slow growing tree. It has the smallest leaf of all Boxwoods which is why it is sought after for bonsai. The Kingsville Boxwood is an evergreen tree with light green leaves and has excellent branching characteristics. A great indoor bonsai tree recommended by the Brooklyn Botanical Gardens.

B. Drainage Hole Covers
- Sale Price: $2.95
B. Fiberglass drainage hole covers. Used to prevent soil from washing out of the container.

Ceramic Figurine- Man with Pipe. 1.5 x 1.75 Tall
- Sale Price: $3.95
Man With Pipe - Chinese mud figurine.
User Comments:
There are currently 0 comments.