Japanese White Pine Bonsai Tree (pinus parvifolia 'gimborn's pyramid')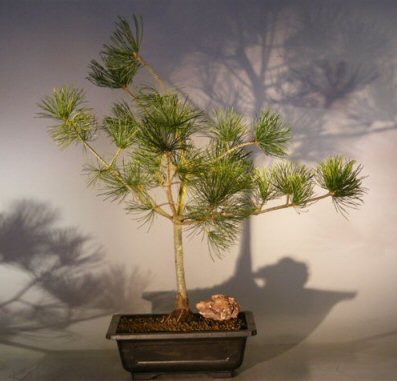 Sale Price: $59.95

From Bonsai Boy of NY
View User Comments
Japanese White Pine Bonsai Tree (pinus parvifolia 'gimborn's pyramid')
A slow growing compact evergreen conifer with a broad shape. Has soft curved green needles with silvery blue undersides in groups of five. Very popular for bonsai. Ready to train.
You may also be interested in these related Bonsai Trees and supplies:

Miniature Bonsai Tree Treasure Box
- Sale Price: $9.95
Miniature bonsai tree treasure box. Opens with hinge to reveal a seed inside inscribed with the word "Seed"....a reminder that even the smallest of wishes planted in your mind can lead to the most beautiful creations in life.

Juniper Bonsai Tree - Trained (juniper procumbens nana)
- Sale Price: $99.95
This dwarf Juniper from Japan is the most popular evergreen in the U.S. When we think of a traditional bonsai and what it should look like we think of a "Juniper Procumbens Nana". They are very hardy, long-lived and tolerate many adverse conditions. Trained style.

Watering Can
- Sale Price: $19.95
(2 Liter) Great for bonsai trees outdoor or indoor. Allows water to be dispensed very gently from the many fine drainage holes in the spout.

Frog Planter
- Sale Price: $27.95

Ginkgo Bonsai Tree (ginkgo Biloba)
- Sale Price: $59.95
Maidenhair Tree. The sole representative of one of the most ancient genera, the Gingko may be considered a true living fossil as its ancestors flourished in many parts of the world during the Jurassic Period, from the evidence of fossils dating back 200 million years ago. The Ginko Biloba is the hottest trend in both health foods and bonsai. It's regarded in eastern cultures as the "Fountain of Youth" plant. The herbs from the mystical plant are thought to improve health and memory. Easily distinguishable by the characteristic two-lobed, fan-shaped deciduous leaves which turn deep yellow in autumn. Fruits arranged in clusters are golden yellow when ripe. Keep outdoors. Available 12 months a year. May have no foliage during autumn and winter months.
User Comments:
There are currently 0 comments.