Japanese Red Maple Bonsai Tree - Small (acer palmatum 'atropurpurea')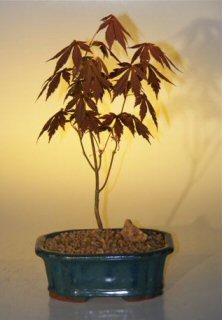 Sale Price: $39.95

From Bonsai Boy of NY
View User Comments
Japanese Red Maple Bonsai Tree - Small (acer palmatum 'atropurpurea')
Red leaves. This is the famous Japanese Maple which has finely dissected palmette shaped leaves (deeply cut like the palm of the hand). Beautiful tree that will lend a soft, delicate texture to a patio, deck, balcony or garden. Deciduous. Keep outdoors.
You may also be interested in these related Bonsai Trees and supplies:

Professional Concave Cutter Made in Japan
- Sale Price: $159.95
The high carbon steel of this concave cutter will keep a sharp edge indefinitely when properly used and cared for. This tool is designed for cutting branches flush to the trunk so that the resulting wound can heal quickly with little scarring. The concave cutter is the single most important tool for bonsai use and for which there is no substitute.

Humidity/Drip Bonsai Tray (Extra Extra Large) 14.50x10.5x1.0
- Sale Price: $16.95
A finishing, practical addition to your bonsai living sculpture. Not only do they visually enhance the placement of your tree, but humidity/drip trays make watering simple, provide essential humidity for your tree and protect furniture from stain and damage.

Bonsai Display Table -11.0 x 7.0 x 3.5
- Sale Price: $69.95
Beautifully hand-crafted Pecky Cypress display table. The pecky effect is a kind of sculpturing process which has been produced by nature. Once the tree has been harvested, the causative agent within the tree completely disappears leaving only the characteristic pocketing it formerly created. The beautiful grains of knotty effects will serve to enhance the beauty of your favorite bonsai tree.

Flowering Mimosa Bonsai Tree - Large (leucaena glauca)
- Sale Price: $59.95
The Mimosa loves sun and is drought tolerant. It folds its leaves under water stress, preventing water loss and under severe conditions it will defoliate until the rains return. The Mimosa can bloom throughout the year. Flowers are white with a white base, looking like white pom poms and are self-fertilizing. It takes about four months after flowering for the long flattened pods to mature and liberate seeds. The Mimosa seeds have a hard coat which requires scarification (abrasion) and germination is usually 6-10 days after sowing. Fun tree and easy indoor care.

Ceramic Bonsai Pot - Land/Water with Scalloped Edges 12.0 x 9.5 x 3.0
- Sale Price: $18.00
Imported, glazed Chinese ceramic land/water pot. Oval, dark moss green color with scalloped edges
User Comments:
There are currently 0 comments.