Humidity/Drip Tray Bonsai Pebbles - Large 3.0 lbs.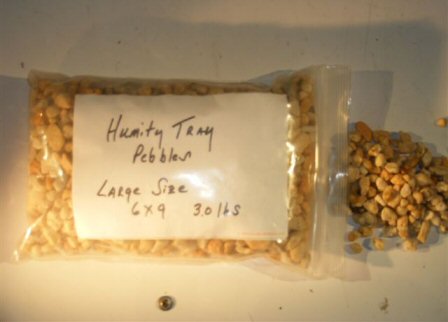 Sale Price: $14.95

From Bonsai Boy of NY
View User Comments
Humidity/Drip Tray Bonsai Pebbles - Large 3.0 lbs.
It is a good idea to add water to your bonsai humidity/drip tray. It is also a good idea to raise your bonsai pot out of the water by lining your tray with River pebbles.
You may also be interested in these related Bonsai Trees and supplies:

Ceramic Bonsai Pot With Attached Humidity/Drip tray -Professional Series Oval 8.5 x 6.5 x 3.5
- Sale Price: $19.25
Imported ceramic bonsai pot.

Ceramic Bonsai Pot Round Green Fluted
- Sale Price: $10.95
Glazed round green

Humidi-Grow Bonsai Tray - Black Color
- Sale Price: $17.95
The Humidi-Grow Tray allows you to use pots with drain holes without worrying about excess water pouring out and causing structural or furniture damage. The overflow will pass through this pot and collect in the tray where the settled water will evaporate and help offset the loss of transpiration which is the loss of moisture through the leaves. Designed for minimal care. Just wash the tray and grid with mild soap and water occasionally, then refill with water.

Hinoki Cypress Bonsai Tree Evergreen Conifer - Large (Chamecyparis Obtusa Compacta)
- Sale Price: $49.95
Hinoki Cypress Evergreen conifer with flat deep green fan-like foliage. Leaves edged with blue on undersides. Pea-sized cones. Beautiful uncommon evergreen which is the smallest of the species. Not to be confused with Arborvitae. Hardy, keep outdoors.

Ficus Braided Twist (Ficus Compacta)
- Sale Price: $59.95
This impressive broad leaf, trouble-free evergreen has smaller leaves than the "Ficus Benjamina" and a full compact canopy - multiple trees fused together to form the trunk of this unique Ficus tree. Recommended for home office or dorm in low to high lighting conditions. Very easy care.
User Comments:
There are currently 0 comments.