Humidity/Drip Tray Bonsai Pebbles - Large 3.0 lbs.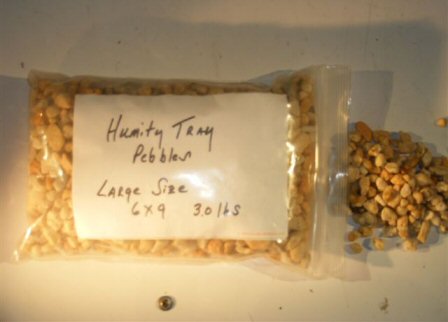 Sale Price: $14.95

From Bonsai Boy of NY
View User Comments
Humidity/Drip Tray Bonsai Pebbles - Large 3.0 lbs.
It is a good idea to add water to your bonsai humidity/drip tray. It is also a good idea to raise your bonsai pot out of the water by lining your tray with River pebbles.
You may also be interested in these related Bonsai Trees and supplies:

Lime Sulphur - 4 oz.
- Sale Price: $9.95
Lime Sulphur is a premium sterilizer, jin and shari preservation solution imported from Japan. Used for jin and shari to prevent rotting and to brighten and lighten dead wood color. Apply in mid day with a brush. Do not dilute. Protect the pot and all surfaces from drips and run-off. Apply twice a year one month apart. Repeat for two years and as needed for the woods preservation. As with all chemicals, extreme caution should be used.

Bald Cypress Bonsai Tree - Coiled Trunk (taxodium distichum)
- Sale Price: $54.95
The Bald Cypress grows in many areas of Louisiana and Florida particularly in swampy areas. The Bald Cypress has been designated the official tree of the state of Louisiana. The bark is a fibrous reddish-brown with small flat ridges and shallow furrows. The leaves of the Bald Cypress tree spread in flat planes in a feathery pattern on its branchlets and is deciduous. Our is grown from seed and trained into a coiled trunk style. Good for indoors.

Flowering Persian Lime Bonsai Tree (citrus latifolia)
- Sale Price: $89.95
Also known as Tahiti Lime or Bears Lime. It is the primary citrus fruit grown commercially in the United States and sold simply as a lime. The fruit it about 6 cm in diameter, often with slightly nippled ends and is usually sold quite green. They are less acidic and are absent of thorns and seeds. Not as bitter as other limes. Good for indoors.

Ceramic Orchid Pot 5.0x5.25 Square With Attached Saucer
- Sale Price: $13.50
Imported Ceramic Orchid Pot

Male Musician Ceramic Figurine
- Sale Price: $12.95
Ceramic Male Musician Figurine
User Comments:
There are currently 0 comments.