Humidity/Drip Tray Bonsai Pebbles - Large 3.0 lbs.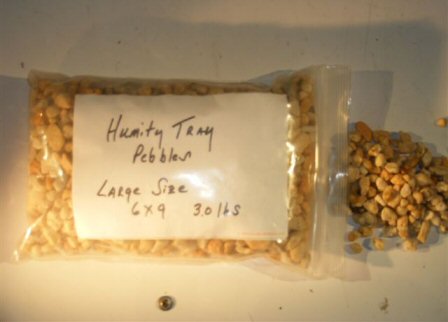 Sale Price: $14.95

From Bonsai Boy of NY
View User Comments
Humidity/Drip Tray Bonsai Pebbles - Large 3.0 lbs.
It is a good idea to add water to your bonsai humidity/drip tray. It is also a good idea to raise your bonsai pot out of the water by lining your tray with River pebbles.
You may also be interested in these related Bonsai Trees and supplies:

Ficus Bonsai Tree Variegated Water/Land Container - Small (ficus benjamina)
- Sale Price: $39.95
This is the tree that we recommend if you are inexperienced with bonsai or you do not have a green thumb. In our opinion it is one of the easiest bonsai trees to care for and it is a very beautiful trouble-free evergreen. If you don't know which tree to purchase as a gift for someone, this is the tree to select. Our tree features tiny umbrella shaped leaves forming a dense green canopy. On the other side of the planting is a well that holds water. We include a fisherman figurine along with a fishing pole and ceramic fish.

Japanese Kingsville Boxwood Bonsai Tree (buxus microphylla compacta)
- Sale Price: $325.00
Native to Japan the Kingsville Boxwood is an extremely slow growing tree. It has the smallest leaf of all Boxwoods which is why it is sought after for bonsai. The Kingsville Boxwood is an evergreen tree with light green leaves and has excellent branching characteristics. A great indoor bonsai tree recommended by the Brooklyn Botanical Gardens.

Executive Desktop Meditation Zen Garden 14.5x10.5x1.0 - 7 lbs.
- Sale Price: $49.95
Experience serenity as you transform sand and stones into a personal landscape of graceful simplicity while creating an ambiance of pure tranquility. Inspired by the world famous Zen Rock Garden at Ryoan-ji in Kyoto Japan, our executive desktop Zen garden calms the senses, clears the mind and melts away daily stress. Our Zensational meditation Zen garden makes an impressive and memorable gift for family, friends and co-workers.

Ceramic Bonsai Pot With Attached Humidity/Drip tray - Rectangle 10.75 x 8.5 x 4.125
- Sale Price: $24.00
Imported ceramic bonsai pot.

Flowering Lavender Star Flower Bonsai Tree - Small (Grewia Occidentalis)
- Sale Price: $29.95
Evergreen tree native to Africa and Australia with 400 species worldwide. Awesome purple/mauve 1" wide flowers borne along the stem at the end of spring and then, occasionally, the rest of the year. Good indoor bonsai tree. Provide some sun to help generate blooms.
User Comments:
There are currently 0 comments.