Humidity/Drip Bonsai Tray (9.75 x 6.75 x 1.0)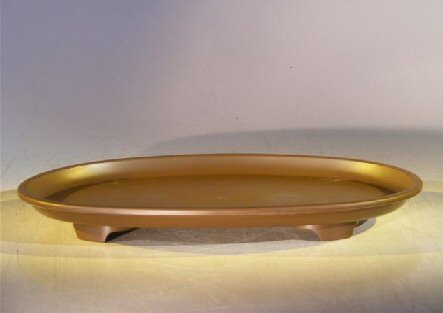 Sale Price: $11.95

From Bonsai Boy of NY
View User Comments
Humidity/Drip Bonsai Tray (9.75 x 6.75 x 1.0)
A finishing, practical addition to your bonsai living sculpture. Not only do they visually enhance the placement of your tree, but humidity/drip trays make watering simple, provide essential humidity for your tree and protect furniture from stain and damage. Imported from Japan.
You may also be interested in these related Bonsai Trees and supplies:

Flowering Red Anthurium In Hawaiian Lava Rock (small talk) Bonsai Tree (anthurium andraeanum)
- Sale Price: $49.95
Anthurium is the most popular and long lasting of all tropical flowers. Our premium red Anthurium, from anthos, meaning flower, and oura, meaning tail, refers to the many tiny-like spadix. These bright red colored beauties (currently in bloom) are the most well known the world over. Real Hawaiian lava rock is hand selected to provide a happy home for your Anthurium. Our Anthuriums have been specially hybridized for use as houseplants due to their trouble-free growing requirements. With reasonable care your volcano bonsai should last for years. Place in a bright window or on a countertop without direct sun and best to keep a small amount of water in a saucer/tray. Fertilize monthly at 1/2 strength with a soluable fertilizer found at your local garden shop or on our website.

Ceramic Bonsai Pot - Cascade 7.5x7.5
- Sale Price: $24.00
Ceramic bonsai pot, square cascade, Parisian Red

Copper Beech - 7 Tree Forest Group (fagus sylvatica 'purpurea')
- Sale Price: $295.00
Also known as Purple Beech. A great colorful addition to any bonsai collection. Has leaves that are reddish or purple. The purple color leaves turn into a bronzy green in the summer heat. Has smooth grey bark. Leaves turn red/brown in fall and hang on the tree well into winter. Seven (7) tree forest group. Deciduous. Keep outdoors.

Flowering Crown of Thorns Bonsai Tree - Red / Salmon (euphorbia milii)
- Sale Price: $29.95
The Crown of Thorns is a spiny, succulent bonsai that flowers nearly all year. The common name alludes to the legend that the euphorbi milii worn by Christ at the time of his crucifixion was made from stems of this plant. The red / Salmon flowers are small and the brightly colored modified leaves (bracts) found just beneath the flowers are quite attractive. Very easly indoor care. Requires water only weekly.

Glass Owl Figurine
- Sale Price: $14.95
Miniature glass Owl figurine, including black oval wooden stand with raised feet.
User Comments:
There are currently 0 comments.