Humidity/Drip Bonsai Tray 13.25x9.5x0.5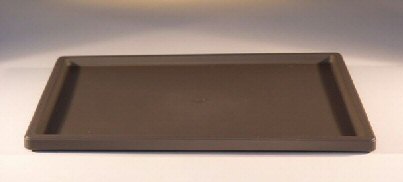 Sale Price: $16.95

From Bonsai Boy of NY
View User Comments
Humidity/Drip Bonsai Tray 13.25x9.5x0.5
A finishing, practical addition to your bonsai living sculpture. Not only do they visually enhance the placement of your tree, but humidity/drip trays make watering simple, provide essential humidity for your tree and protect furniture from stain and damage.
You may also be interested in these related Bonsai Trees and supplies:

Norfolk Island Pine Tree Forest Group In Lava Rock (araucaria heterophila)
- Sale Price: $39.95
Open and airy conifer (cone bearing) with light green foliage turning darker with age. One of the best know trees from the South Pacific. Will tolerate warm temperatures and does not even object to dryness, although it does not like glaring sunshine. Decorates well for any holiday or season. Very easy indoor care.

Juniper Karate Kid Bonsai Tree - Medium (Juniper Procumbens nana)
- Sale Price: $124.95
This dwarf Juniper from Japan is the most popular evergreen in the U.S. When we think of a traditional bonsai and what it should look like, we think of a "Juniper Procumbens Nana." They are very hardy, long-lived, and tolerate many adverse conditions. Trained in the traditional style, this Juniper Procumbens is popularly known as the "Karate Kid" tree.

Mistletoe Fig - Cascade Style (ficus diversifolia)
- Sale Price: $150.00
There are over 800 species of the Ficus genus. The Mistletoe Fig is one of the few Ficus that will fruit in the house. The leaves bear tiny brown spots and the pea sized fruits appear all year round and are inedible. The oval shaped leaves look just like mistletoe. Very slow grower. Excellent for indoors.

Dwarf Hinoki Cypress Bonsai Tree (chamecyparis gracillis)
- Sale Price: $395.00
Slow growing evergreen conifer with flat deep green fan-like foliage. Leaves edged with blue on undersides. Pea-sized cones. Beautiful uncommon ornamental evergreen with gracefully arching branchlets. Keep outdoors.

Flowering Dwarf Weeping Barbados Cherry Bonsai Tree (Malpighia Pendiculata)
- Sale Price: $49.95
Native to St. Croix, Trinidad and Curacao. The name Malpighia is used to honor Marcello Malpighia (1628-1693). He was a distinguished naturalist in Bologna, Italy. The natural form of the Barbados Cherry is Pendulous with weeping twigs and branches. The flowers are rose-pink, often several together in a cyme. Its fruit is small and it has a weeping growth habit if the branches are allowed to elongate. The round inedible fruits are borne singly or in 2's or 3's and are bright red with glossy skin. The fruit is very juicy and extremely high in ascorbic acid. Great indoor bonsai.
User Comments:
There are currently 0 comments.