Humidi-Grow Bonsai Tray - Brown Color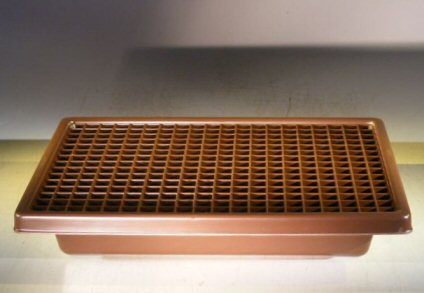 Sale Price: $17.95

From Bonsai Boy of NY
View User Comments
Humidi-Grow Bonsai Tray - Brown Color
The Humidi-Grow Tray allows you to use pots with drain holes without worrying about excess water pouring out and causing structural or furniture damage. The overflow will pass through this pot and collect in the tray where the settled water will evaporate and help offset the loss of transpiration which is the loss of moisture through the leaves. Designed for minimal care. Just wash the tray and grid with mild soap and water occasionally, then refill with water.
Size: 13 1/2" x 10 1/2" x 2 1/4"
You may also be interested in these related Bonsai Trees and supplies:

Miniature Figurine: Man Holding a Fan Sitting on a Rock - Light Blue Color - Fine Deta
- Sale Price: $5.95
Miniature Figurine Man Holding a Fan Sitting on a Rock - Light Blue Color - Fine Detail

Ficus Retusa Bonsai (Medium) Curved Shaped Trunk
- Sale Price: $49.95
Also known as Banyan Fig and Taiwan Ficus. The Retusa has small, dark green leaves which alternate up the stem and which are more oval than the Benjamina. Grey to reddish bark dotted with small, horizontal flecks, similar to tiger-like markings. All have heavy trunks and all are trained in the traditional curved shape. Among the most tolerant, versatile and trouble-free bonsai trees for indoor use.

Oval Ceramic Bonsai Pot 14.125x11.0x4.0
- Sale Price: $36.00
Oval unglazed pot with four raised feet

Schultz Insect Spray
- Sale Price: $9.95
Non-concentrate, ready-to-use spray, made with botanical pyrethins from chrysanthemum flowers. Effective against whitefly, aphids, scales, spider mites, wooly aphids and many others. For use on all bonsai trees, house plants, fruits and vegetables, trees and shrubs.

Bonsai Training Wire 6.0 mm Aluminum Training Wire
- Sale Price: $9.95
Brown anodized aluminum training wire. 100 gram, 5" coil.
User Comments:
There are currently 0 comments.