Humidi-Grow Bonsai Tray - Brown Color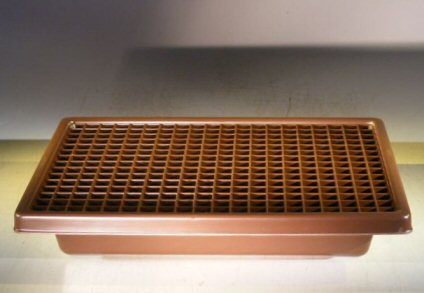 Sale Price: $17.95

From Bonsai Boy of NY
View User Comments
Humidi-Grow Bonsai Tray - Brown Color
The Humidi-Grow Tray allows you to use pots with drain holes without worrying about excess water pouring out and causing structural or furniture damage. The overflow will pass through this pot and collect in the tray where the settled water will evaporate and help offset the loss of transpiration which is the loss of moisture through the leaves. Designed for minimal care. Just wash the tray and grid with mild soap and water occasionally, then refill with water.
Size: 13 1/2" x 10 1/2" x 2 1/4"
You may also be interested in these related Bonsai Trees and supplies:

Miniature Ceramic Figurine Two Men Sitting at a Table with Fine Detail Color: Blue & Red
- Sale Price: $5.95
Miniature Ceramic Figurine: Two Men Sitting at a Table with Fine Detail

Miniature Panda Figurines - Set of 6
- Sale Price: $14.95
Miniature Panda Figures - 6 piece set.

Ceramic Figurine Two Boys on a See-Saw
- Sale Price: $9.95
Ceramic Figurine: Two Boys on a See-Saw

Bonsai Display Table - Plastic 8.25 x 4.25 x 1.5 Tall
- Sale Price: $7.95
Bonsai display table measuring 8.25" x 4.25" x 1.5"

Shimpaku Juniper Bonsai Tree - Trained (juniper chinensis)
- Sale Price: $125.00
The Japanese Shimpaku Juniper is a needled evergreen tolerant of a wide variety of soils and is dioecious which means that there are separate male and female plants. Shimpaku is a naturally irregular vase shaped Juniper which we have trained in the traditional bonsai style that has a curved trunk and deadwood in the form of Shari. The Shimpaku has attractive year round foliage and its dark green needles are soft to the touch. Very popular and easy to care for bonsai.
User Comments:
There are currently 0 comments.