Hinoki Cypress Bonsai Tree - Medium (chamecyparis obtusa 'compacta')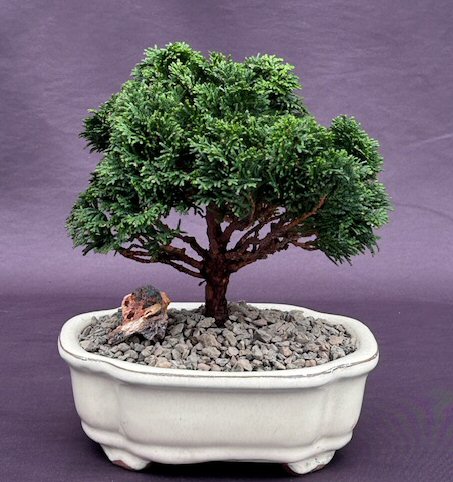 Sale Price: $39.95

From Bonsai Boy of NY
View User Comments
Hinoki Cypress Bonsai Tree - Medium (chamecyparis obtusa 'compacta')
The Hinoki Cypress is an evergreen conifer with flat deep green fan-like foliage. The leaves are edged with blue on the undersides. Pea-sized cones. Beautiful uncommon evergreen which is the smallest of the species. Not to be confused with Arborvitae. Hardy. Keep outdoors.
You may also be interested in these related Bonsai Trees and supplies:

Flowering Ligustrum Bonsai Tree (ligustrum lucidum)
- Sale Price: $350.00
Native to China and Eastern Asia and is now grown ornamentally in the United States. The berry of the Ligustrum has been used as a "yin" tonic in traditional Chinese medicine for a wide range of conditions, including premature aging, ringing in the ears and chronic toxicity. White puffy blooms are attractive during late spring and early summer. Does very well indoors.

Miniature Bonsai Tree Treasure Box
- Sale Price: $9.95
Miniature bonsai tree treasure box. Opens with hinge to reveal a seed inside inscribed with the word "Seed"....a reminder that even the smallest of wishes planted in your mind can lead to the most beautiful creations in life.

Chinese Elm Bonsai Tree On Rock Slab (ulmus parvifolia)
- Sale Price: $125.00
Has small evergreen serrated leaves with excellent branching characteristics. Trained in the traditional tiered layered style with a curved trunk. Planted in a 14"x8"x1" tall fiber reinforced concrete slab.

Mistletoe Fig Bonsai Tree (ficus diversifolia)
- Sale Price: $39.95
There are over 800 species of the Ficus genus. The Mistletoe Fig is one of the few Ficus that will fruit in the house. The leaves bear tiny brown spots and the pea sized fruits appear all year round and are inedible. The oval shaped leaves look just like mistletoe. Very slow grower. Excellent for indoors.

Juniper Bonsai Tree - Trained (juniper procumbens nana)
- Sale Price: $89.95
This dwarf Juniper from Japan is the most popular evergreen in the U.S. When we think of a traditional bonsai and what it should look like we think of a "Juniper Procumbens Nana". They are very hardy, long-lived and tolerate many adverse conditions. Trained style.
User Comments:
There are currently 0 comments.