Hinoki Cypress Bonsai Tree - Medium (chamecyparis obtusa 'compacta')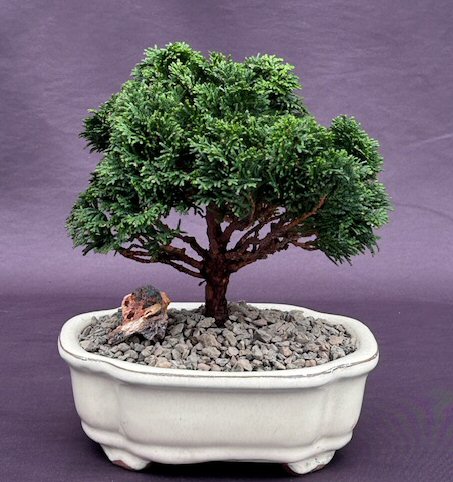 Sale Price: $39.95

From Bonsai Boy of NY
View User Comments
Hinoki Cypress Bonsai Tree - Medium (chamecyparis obtusa 'compacta')
The Hinoki Cypress is an evergreen conifer with flat deep green fan-like foliage. The leaves are edged with blue on the undersides. Pea-sized cones. Beautiful uncommon evergreen which is the smallest of the species. Not to be confused with Arborvitae. Hardy. Keep outdoors.
You may also be interested in these related Bonsai Trees and supplies:

Flowering Pink Serissa (Serissa Foetida)
- Sale Price: $69.95
This sub-tropical evergreen imported from Japan, blooms profusely with beautiful pink or double pink rose-shaped miniature flowers. Small foliage. Very slow grower. Excellent for beginner.

Two Frog Miniature Figurines 5.0x2.0x2.0
- Sale Price: $14.95
Two Frog miniature figurines

Hawaiian Umbrella Bonsai Tree Banyan Style (arboricola schfflera)
- Sale Price: $175.00
This is the tree that we recommend if you are inexperienced with bonsai or you do not have a green thumb. In our opinion it is one of the easiest bonsai trees to care for and is a very beautiful "trouble-free" evergreen. If you don't know which tree to purchase as a gift for someone, this is the tree to select. This versatile tree is great for home, office, dorm or anywhere and does well indoors. Our tree features tiny umbrella shaped leaves forming a dense green canopy. Very popular and easy indoor care. Our Hawaiian Umbrella Tree bonsai with banyan roots is truly a magnificent work of art by mother nature. Anyone would be proud to own this impressive conversation piece.

Frog Planter
- Sale Price: $27.95

Bonsai Wound Dressing - 200 Gram Tube Seals Bonsai Tree Wounds
- Sale Price: $21.95
Traditional dressing used to seal tree wounds against insects, disease, and weather to speed healing and minimize the shock of wounds when styling bonsai or repairing branches. Quick drying sealant containing insecticides and fungicides that forms a smooth, dark cover that remains quite flexible.
User Comments:
There are currently 0 comments.