Himalayan Cedar Bonsai Tree (cedrus deodara)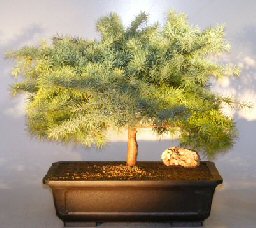 Sale Price: $295.00

From Bonsai Boy of NY
View User Comments
Himalayan Cedar Bonsai Tree (cedrus deodara)
Conifer cone and bearing with reddish - brown barrel shaped cones. Has silvery green needles with cream hued tips evergreen with an amazingly soft texture. Mature foliage is gray-green. Hardy. Keep outdoors.
You may also be interested in these related Bonsai Trees and supplies:

Hawaiian Umbrella Bonsai Tree Banyan Style (arboricola schfflera)
- Sale Price: $140.00
This is the tree that we recommend if you are inexperienced with bonsai or you do not have a green thumb. In our opinion it is one of the easiest bonsai trees to care for and is a very beautiful "trouble-free" evergreen. If you don't know which tree to purchase as a gift for someone, this is the tree to select. This versatile tree is great for home, office, dorm or anywhere and does well in low to high lighting conditions. Our tree features tiny umbrella shaped leaves forming a dense green variegated canopy. Very popular and easy indoor care. Our Hawaiian Umbrella bonsai tree with banyan roots is truly a work of art by mother nature. Anyone would be proud to own this impressive conversation piece.

Mica Bonsai Pot - Oval 17x11.75x4.0
- Sale Price: $56.95
Mica Pots imported from Korea are made of 80% mica, 15% polyethelene and 5% graphite. Mica has a natural ability to stabilize the temperature of the soil in the pots. This promotes healthy root activity during the growing season and protects during the cold periods. These pots are extremely durable and will withstand the element for years. The pot has a wide lip and is dark brown in color.

Ceramic Figurine - Man Sitting on Water Buffalo 2.75x1.25x1.5
- Sale Price: $5.95
Ceramic figurine man sitting on water buffalo

Ceramic Bonsai Pot - Professional Series Rectangle 10.0 x 8.0 x 4.0
- Sale Price: $23.95
Imported ceramic bonsai pot

Green Emerald Ficus Bonsai Tree Banyan Style (ficus microcarpa)
- Sale Price: $295.00
Also known as Green Island Ficus. Has oval to roundish dark green shiny leaves. Easily forms rosetts at the end of its branches if kept trimmed. Branches and fruits well and easily develops aerial roots when kept humid. Different than other ficus varieties in that the leaves are much thicker. Does well in lower or higher lighting conditions. One of our favorites. Easy indoor maintenance.
User Comments:
There are currently 0 comments.