Hemp Brush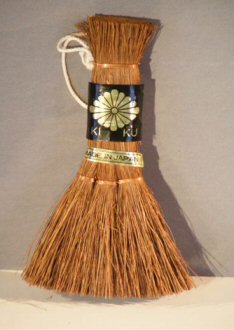 Sale Price: $14.95

From Bonsai Boy of NY
View User Comments
Hemp Brush
Hemp Brush. Used to smooth the top of the soil and is helpful with cleaning up a Penjing. Firm but not too stiff.
You may also be interested in these related Bonsai Trees and supplies:

Italian Cypress Evergreen Bonsai Tree - Medium (cupressus sempervirens)
- Sale Price: $29.95
The Italian Cypress or Mediterranean Cypress is a great indoor bonsai tree which can be grown singularly or in groups. Originally found in the eastern Mediteranean area, this bonsai is susceptible to the cold which means that either you must bring it indoors during the winter or grow it in a fairly warm climate. They feature fine green/gray foliage which actually grows in flattened sprays. They also grow "cool looking" tiny elongated brown cones during the year, something that is somewhat rare in bonsai.

Flowering Tamarind Bonsai Tree (tamarindus indica)
- Sale Price: $99.95
Native to tropical Africa and naturalized around the world. The Tamarind is an attractive tree valued for its shade and edible fruit. The foliage is bright green, dense, pinnate and feathery in appearance. The leaflets close at night. The inconspicuous, inch-wide, five petaled flowers are borne in small racemes and are yellow with orange or red streaks. The flower buds are pink due to the outer color of the four sepals which are shed when the flower opens. The Tamarind is long-lived and slow growing. Prized as bonsai due to the very attractive rough bark that it develops. Makes a great indoor bonsai.

Ceramic Bonsai Pot - Rectangle 7.0 x 5.5 x 2.4
- Sale Price: $8.95
Imported ceramic bonsai pot

Ceramic Bonsai Pot with Attached Tray - Cascade 7.5x7.5
- Sale Price: $24.00
Ceramic Cascade, Square, Bonsai Pot, Mustard

Flowering Lavender Star Flower Bonsai Tree - Medium (Grewia Occidentalis)
- Sale Price: $45.95
Medium evergreen tree 10" tall, native to Africa and Australia with 400 species worldwide. Awesome purple/mauve 1" wide flowers borne along the stem at the end of spring and then, occasionally, the rest of the year. Good indoors. Provide some sun to help generate blooms.
User Comments:
There are currently 0 comments.