Hawaiian Umbrella Bonsai Tree Water/Land Container - Medium (arboricola schefflera)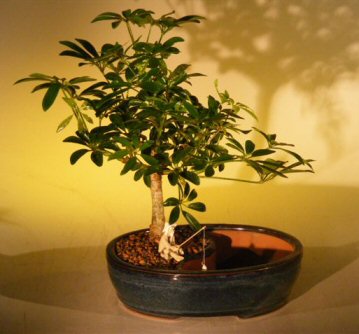 Sale Price: $49.95

From Bonsai Boy of NY
View User Comments
Hawaiian Umbrella Bonsai Tree Water/Land Container - Medium (arboricola schefflera)
This is the tree that we recommend if you are inexperienced with bonsai or you do not have a green thumb. In our opinion it is one of the easiest bonsai trees to care for and it is a very beautiful trouble-free evergreen. If you don't know which tree to purchase as a gift for someone, this is the tree to select. Our tree features tiny umbrella shaped leaves forming a dense green canopy. On the other side of the planting is a well that holds water. We include a fisherman figurine along with a fishing pole and ceramic fish.
You may also be interested in these related Bonsai Trees and supplies:

Bald Cypress Bonsai Tree (taxodium distichum)
- Sale Price: $39.95
The Bald Cypress grows in many areas of Florida and Louisiana particularly in swampy areas. The Bald Cypress has been designated the official tree of the state of Louisiana. The bark is fibrous and has a reddish-brown color with small flat ridges and shallow furrows. The leaves of the Bald Cypress are deciduous and spread in flat planes in a feathery pattern on its branchlets. Ours is grown from seed.

Ceramic Bonsai Pot - Rectangle 6.125 x 5.0 x 2.125
- Sale Price: $7.25
Imported ceramic bonsai pot

Ceramic Bonsai Pot Round Green Fluted
- Sale Price: $10.95
Glazed round green

Ficus Retusa Bonsai Tree Curved Trunk & Tiered Branching Style (ficus retusa)
- Sale Price: $295.00
Also known as Banyan Fig. The Retusa has small, dark green leaves which are more oval than the Benjamina. Grey to reddish bark dotted with small horizontal flecks, similar to tiger-like markings. Has a heavy trunk with and tiered branching. The Retusa is among the most tolerant, versatile and trouble-free bonsai trees for indoor use.

Shimpaku Juniper Bonsai Tree Planted on a Rock Slab (juniperus chinensis)
- Sale Price: $99.95
Also known as the Chinese Juniper. This needled evergreen is tolerant of a wide variety of soils and is dioecious which means that there are male and female plants. Shimpaku is a naturally irregular vase shaped Juniper which we grow into a trditional upright style. The Shimpaku has attractive year round foliage and its dark green needles are soft to the touch. Very popular and easy to care for bonsai.
User Comments:
There are currently 0 comments.