Hawaiian Umbrella Bonsai Tree on a Rock Slab (arboricola schefflera)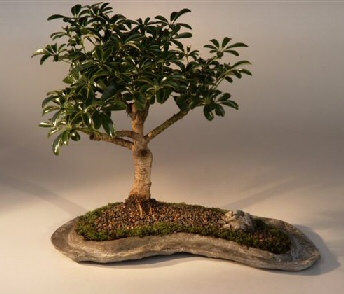 Sale Price: $99.95

From Bonsai Boy of NY
View User Comments
Hawaiian Umbrella Bonsai Tree on a Rock Slab (arboricola schefflera)
This is the tree that we recommend if you are inexperienced with bonsai or you do not have a green thumb. In our opinion it is one of the easiest indoor bonsai trees to care for and is a very beautiful trouble-free evergreen. If you don't know which tree to purchase as a gift for someone, this is the tree to select. This versatile tree is great for the home, office, dorm or anywhere and does well in low or high lighting conditions.
You may also be interested in these related Bonsai Trees and supplies:

Desktop Grow Light
- Sale Price: $54.95
This incredible computer-operated, 9-watt, 1200 lumens, full spectrum fluorescent lamp is the answer to all of your indoor gardening needs. An automatic computerized timer turns the lamp on and off, simulating the day length in cycle with the four seasons. The soil moisture sensor eliminates the guesswork about watering. To vary the light intensity or accommodate larger plants, the telescoping stem adjusts from 7" to 14" high. The base of the lamp that holds the pot measures 6" x 7". The textured pebbled base serves as both a catch basin and humidity/drip tray. A wonderful gift to keep bonsai thriving whether at home, office or classroom. Instructions included. Grow lamp bulb also included.

Flowering Red Anthurium In Hawaiian Lava Rock (small talk) Bonsai Tree (anthurium andraeanum)
- Sale Price: $49.95
Anthurium is the most popular and long lasting of all tropical flowers. Our premium red Anthurium, from anthos, meaning flower, and oura, meaning tail, refers to the many tiny-like spadix. These bright red colored beauties (currently in bloom) are the most well known the world over. Real Hawaiian lava rock is hand selected to provide a happy home for your Anthurium. Our Anthuriums have been specially hybridized for use as houseplants due to their trouble-free growing requirements. With reasonable care your volcano bonsai should last for years. Place in a bright window or on a countertop without direct sun and best to keep a small amount of water in a saucer/tray. Fertilize monthly at 1/2 strength with a soluable fertilizer found at your local garden shop or on our website.

Ceramic Bonsai Pot - Oval 20.25x16.5x5.0
- Sale Price: $142.75
Imported glazed Chinese pot, blue color, oval

Bonsai Conifer Soil Mix - 2 lbs. (1 Qt.)
- Sale Price: $6.95
Conifer Mix Bonsai Soil. Blend of ingredients appropriate for potting conifers.

Ceramic Bonsai Pot with Attached Tray - Cascade 5.5x5.5
- Sale Price: $14.50
Ceramic bonsai pot, cscade, square, color mustard
User Comments:
There are currently 0 comments.