Hawaiian Umbrella Bonsai Tree - Banyan Style (arboricola schfflera)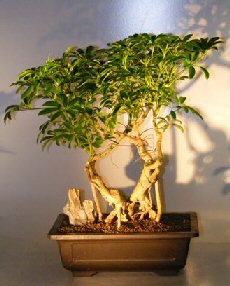 Sale Price: $175.00

From Bonsai Boy of NY
View User Comments
Hawaiian Umbrella Bonsai Tree - Banyan Style (arboricola schfflera)
This is the tree that we recommend if you are inexperienced with bonsai or you do not have a green thumb. In our opinion it is one of the easiest bonsai trees to care for and is a very beautiful "trouble-free" evergreen. If you don't know which tree to purchase as a gift for someone, this is the tree to select. This versatile tree is great for home, office, dorm or anywhere and does well in low to high lighting conditions. Our tree features tiny umbrella shaped leaves forming a dense green variegated canopy. Very popular and easy indoor care. Our Hawaiian Umbrella bonsai tree with banyan roots is truly a work of art by mother nature. Anyone would be proud to own this impressive conversation piece.
You may also be interested in these related Bonsai Trees and supplies:

Flowering Mimosa Bonsai Tree - Large (leucaena glauca)
- Sale Price: $59.95
The Mimosa loves sun and is drought tolerant. It folds its leaves under water stress, preventing water loss and under severe conditions it will defoliate until the rains return. The Mimosa can bloom throughout the year. Flowers are white with a white base, looking like white pom poms and are self-fertilizing. It takes about four months after flowering for the long flattened pods to mature and liberate seeds. The Mimosa seeds have a hard coat which requires scarification (abrasion) and germination is usually 6-10 days after sowing. Fun tree and easy indoor care.

Black Olive Bonsai Tree (bucida spinosa)
- Sale Price: $59.95
Native to the Caribbean and parts of Florida. Not the edible Olive that we know and love, but does produce a small, black seed-capsule. An evergreen tree with a smooth trunk and has a very dense, full canopy. The lush, dark bluish/green, leathery leaves can be over 2" long and are clustered at branch tips, sometimes mixed with 1" long spines found along the branches. Naturally grows erratically in all directions forming a diamond-like lace. Loves the sun and heat. Do not expose to temperatures below 40F. Great for indoors.

Replacement Lamp (for Desktop Grow Light)
- Sale Price: $16.95
Replacement Lamp for Desktop Grow Light

Ficus Bonsai Tree - Variegated in lava rock (ficus benjamina)
- Sale Price: $39.95
The Ficus Benjamina is an indoor tropical bonsai tree that is easy to care for. The Benjamina has evergreen leaves with a splash of yellow which is called "variegated". The leaf size can be reduced by trimming. Trimming will also keep the tree tight, full, and compact as will direct sun.

Miniature Ceramic Figurine Two Men Sitting at a Table with Fine Detail Color: White & Green
- Sale Price: $5.95
Miniature Ceramic Figurine: Two Men Sitting at a Table with Fine Detail
User Comments:
There are currently 0 comments.