Growing Bonsai Indoors By Brooklyn Botanical Gardens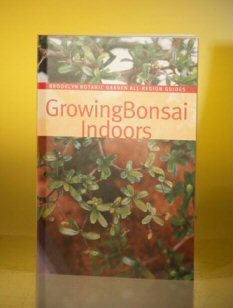 Sale Price: $14.95

From Bonsai Boy of NY
View User Comments
Growing Bonsai Indoors By Brooklyn Botanical Gardens
Growing Bonsai Indoors is an introduction to beautiful tropical and subtropical bonsai that can thrive inside your home year-round. Tailored to the needs of first time bonsai growers, this hands-on guide explains step-by-step how to make indoor bonsai flourish. You'll find a thorough overview of the most common bonsai styles fully illustrated with color photos and line drawings, as well as advice on wiring and prunning from renowned experts. This handy guide also serves as a helpful reference for buying bonsai and connecting with other enthusiastics locally and around the world.
You may also be interested in these related Bonsai Trees and supplies:

Ceramic Bonsai Pot - Oval 14.0x11.0x4.0
- Sale Price: $72.00
Imported glazed Chinese pot, Parisian red color, oval

Ficus Bonsai Tree - Root Over Rock (ficus natalensis)
- Sale Price: $150.00
Has oval to roundish dark green shiny leaves. Easily forms rosetts at the end of it's branches if kept trimmed. Branches and fruits well and has significant aerial roots. Different than other Ficus varieties in that the leaves are thicker. Does well in medium or higher lighting conditions. One of our favorites. Very easy indoor maintenance.

Neem Oil Organic Pest Control Concentrate 2 Ounces
- Sale Price: $12.95
The Neem tree is considered to be one of the most promising trees of the 21st century. It has great potential in the fields of pest management, environmental protection and medicine. Used widely as a bio-pesticide for organic farming, as it repels a wide variety of pests, including the mealy bug, aphids, ants and mosquitoes. Use as a repellent and larvacide. Neem oil also controls black spot, powdery mildew and fungus. Dilute at the rate of 4 teaspoons per gallon of water. Adding a surfactant, such as liquid diswashing soap, will enhance its effectiveness. Great for all bonsai trees and household plants.

San Jose Juniper - Pom Pom Style juniperus Chinensin 'San Jose'
- Sale Price: $495.00
This Juniper is notable for its striking green foliage and beautiful bark. The San Jose Juniper is a conifer and bears Juniper Berries during the summer months.Trained in the Pom Pom style. Great beginner bonsai.

Ceramic Bonsai Pot - Rectangle 12.0 x 9.5 x 3.375 9
- Sale Price: $28.95
Imported ceramic bonsai pot
User Comments:
There are currently 0 comments.