Golden Hinoki Cypress - Large (Chamecyparis 'verdoni')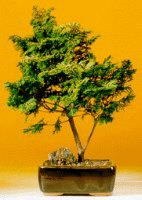 Sale Price: $59.95

From Bonsai Boy of NY
View User Comments
Golden Hinoki Cypress - Large (Chamecyparis 'verdoni')
Golden yellow evergreen conifer with fan-like foliage. Leaves edged with blue on undersides. Pea-sized cones. Beautiful uncommon evergreen which is the smallest of the species. Not to be confused with Arborvitae. Hardy, keep outdoors.
You may also be interested in these related Bonsai Trees and supplies:

Japanese Kingsville Boxwood Bonsai Tree (buxus microphylla compacta)
- Sale Price: $295.00
Native to Japan the Kingsville Boxwood is an extremely slow growing tree. It has the smallest leaf of all Boxwoods which is why it is sought after for bonsai. The Kingsville Boxwood is an evergreen tree with light green leaves and has excellent branching characteristics. A great indoor bonsai tree recommended by the Brooklyn Botanical Gardens.

Ceramic Bonsai Pot With Attached Humidity/Drip tray -Professional Series Oval 8.5 x 6.5 x 3.5
- Sale Price: $19.25
Imported ceramic bonsai pot.

Ceramic Panda Figurines- Set of 5 Various Poses 1 x 1.5
- Sale Price: $14.95
Imported ceramic Panda figurines. Black and White.

Pokon Leaf Shine - 3 oz.
- Sale Price: $6.95
Pokon Leaf Shine made in Holland is an environmentally safe propellant that gives the leaves back their natural gloss and prevents dust from settling.

Redwood Bonsai Tree - 5 Tree Forest Group (metasequoia glyptostroboides)
- Sale Price: $225.00
The most exciting of the Redwoods is the Dawn Redwood, a native of Manchuria China. They were thought to be extinct, but re-discovered in the 1940's. The Dawn Redwood is a true Redwood and like our Redwoods, they are a living fossil, an isolated "relic" species from a long time ago when there were vast forests of them. Seeds were introduced in the U.S. in 1948, and they have become increasingly popular as an ornamental tree. The foliage is more lacey than our native Redwood and unlike our native Redwood, they are deciduous. In the fall the light green sprays turn yellow, then bronze, and fall off. Only the Larches do that. Keep outdoors
User Comments:
There are currently 0 comments.