Golden Hinoki Cypress - Large (Chamecyparis 'verdoni')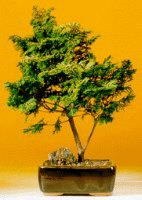 Sale Price: $59.95

From Bonsai Boy of NY
View User Comments
Golden Hinoki Cypress - Large (Chamecyparis 'verdoni')
Golden yellow evergreen conifer with fan-like foliage. Leaves edged with blue on undersides. Pea-sized cones. Beautiful uncommon evergreen which is the smallest of the species. Not to be confused with Arborvitae. Hardy, keep outdoors.
You may also be interested in these related Bonsai Trees and supplies:

Bonsai Training Wire 4.5 mm Aluminum Training Wire
- Sale Price: $9.95
Brown anodized aluminum training wire. 100 gram, 5" coil.

Flowering Red Anthurium In Hawaiian Lava Rock (small talk) Bonsai Tree (anthurium andraeanum)
- Sale Price: $49.95
Anthurium is the most popular and long lasting of all tropical flowers. Our premium red Anthurium, from anthos, meaning flower, and oura, meaning tail, refers to the many tiny-like spadix. These bright red colored beauties (currently in bloom) are the most well known the world over. Real Hawaiian lava rock is hand selected to provide a happy home for your Anthurium. Our Anthuriums have been specially hybridized for use as houseplants due to their trouble-free growing requirements. With reasonable care your volcano bonsai should last for years. Place in a bright window or on a countertop without direct sun and best to keep a small amount of water in a saucer/tray. Fertilize monthly at 1/2 strength with a soluable fertilizer found at your local garden shop or on our website.

Shimpaku Juniper Bonsai Tree - Trained (juniper chinensis)
- Sale Price: $125.00
The Japanese Shimpaku Juniper is a needled evergreen tolerant of a wide variety of soils and is dioecious which means that there are separate male and female plants. Shimpaku is a naturally irregular vase shaped Juniper which we have trained in the traditional bonsai style that has a curved trunk and deadwood in the form of Shari. The Shimpaku has attractive year round foliage and its dark green needles are soft to the touch. Very popular and easy to care for bonsai.

Wooden Display Table - 8 x 5 x 4 tall
- Sale Price: $79.95
Wooden display table. Made in China. Semi-gloss finish.

Juniper Bonsai Tree - Trained (juniper procumbens nana)
- Sale Price: $89.95
This dwarf Juniper from Japan is the most popular evergreen in the U.S. When we think of a traditional bonsai and what it should look like we think of a "Juniper Procumbens Nana". They are very hardy, long-lived and tolerate many adverse conditions. Trained style.
User Comments:
There are currently 0 comments.