Ginseng Ficus Bonsai Tree - Small (Ficus Retusa)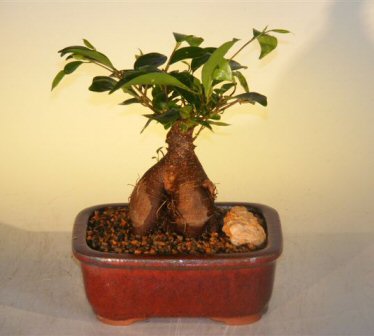 Sale Price: $29.95

From Bonsai Boy of NY
View User Comments
Ginseng Ficus Bonsai Tree - Small (Ficus Retusa)
Also known as Banyan Fig and Taiwan Ficus. The Retusa has small dark green leaves which alternate up the stem and which are more oval than the Benjamina. Grey to reddish bark dotted with small horizontal flecks, similar to tiger-like markings. All have heavy trunks with exposed aerial roots. Among the most tolerant, versatile and trouble-free bonsai trees for indoor use.
You may also be interested in these related Bonsai Trees and supplies:

Green Emerald Ficus Bonsai Tree-Root over Rock (ficus microcarpa)
- Sale Price: $99.95
Also known as Green Island Ficus. Has oval to roundish dark green shiny leaves. Easily forms rosetts at the end of its branches if kept trimmed. Branches and fruits well and easily develops aerial roots when kept humid. Different than other Ficus varieties in that the leaves are much thicker. Does well in lower, medium or high lighting conditions. Ours has exposed roots growing over a textured rock and down into the soil. One of our favorites. Very easy indoor maintenance.

Juniper Bonsai Tree - Trained (juniper procumbens nana)
- Sale Price: $150.00
This dwarf Juniper from Japan is the most popular evergreen in the U.S. When we think of a traditional bonsai and what it should look like we think of a "Juniper Procumbens Nana". They are very hardy, long-lived and tolerate many adverse conditions. Trained style.

Ficus Banyan Bonsai Tree (ficus orientalis)
- Sale Price: $295.00
Our unique specimen bonsai features extensive banyan roots growing down into the soil. This impressive broadleaf, trouble-free evergreen has smaller leaves than the Benjamina. Very easy indoor maintenance.

Wire Bonsai Tree Sculpture Beaded Mini Tree - 4x4x4
- Sale Price: $54.95
Made of 26 gauge galvanized steel wire with yellow, white and green colored fringe beads that are wired onto each branch. Mounted on a piece of free formed solid glass using sea sand and a bonding agent. The sand and small pebbles are painted with India ink to look like moss covered earth. This is best viewed in direct sunlight or bright indoor light.

Oval Ceramic Bonsai Pot 14.125x11.0x4.0
- Sale Price: $36.00
Oval unglazed pot with four raised feet
User Comments:
There are currently 0 comments.