Fukien Tea Flowering Bonsai Tree Curved Trunk - Extra Large (ehretia microphylla)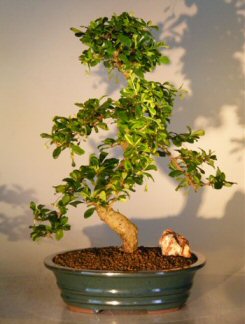 Sale Price: $125.00

From Bonsai Boy of NY
View User Comments
Fukien Tea Flowering Bonsai Tree Curved Trunk - Extra Large (ehretia microphylla)
Native to the Fujan province of China. This tree has small white flowers that can bloom at any time. The foliage is dark green and small in size. The flowers turn into red berries that turn darker with age. Trained in the traditional cloud layer style with a curved trunk. Loves the heat and does great indoors.
You may also be interested in these related Bonsai Trees and supplies:

Ceramic Rabbit Figurine - 1.0
- Sale Price: $1.95
Ceramic Rabbit figurine - 1.0".

Chinese Elm Bonsai Tree Large (Ulmus Parvifolia)
- Sale Price: $59.95
Has small evergreen leaves. Hardy with excellent branching characteristics. Tiered trained trunk gives the appearance of great age.

Artificial Flowering Desert Rose Bonsai Tree
- Sale Price: $59.95
The flowers and branches of this artificial Desert Rose tree are created from luna clay making them very flexible and, therefore, can be adjusted to your personal preferences or left as shown in the image. The hand-painted flowers are so life-like that people will want to touch them to see if they are real. This tree will retain its beauty for many years to come and can be cleaned with a dampened cloth.

Ceramic Bonsai Pot - Rectangle 8.0 x 6.0 x 2.5 Tall
- Sale Price: $13.50
Imported, glazed ceramic container.

Ficus Retusa Bonsai Tree - Banyan Style (ficus retusa)
- Sale Price: $250.00
Also known as Banyan Fig. The Retusa has small, dark green leaves which are more oval than the Benjamina. Grey to reddish bark dotted with small horizontal flecks, similar to tiger-like markings. Has a heavy trunk with tiered branching and an extensive banyan root system. The Retusa is among the most tolerant, versatile and trouble-free bonsai trees for indoor use.
User Comments:
There are currently 0 comments.