Fukien Tea Bonsai Tree Three Tree Forest Group (ehretia microphylla)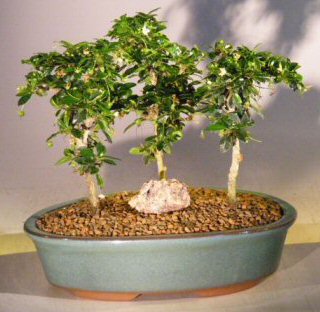 Sale Price: $39.95

From Bonsai Boy of NY
View User Comments
Fukien Tea Bonsai Tree Three Tree Forest Group (ehretia microphylla)
Native to the Fujan province of China. This tree has small white flowers that can bloom at any time. The foliage is dark green and small in size. The flowers turn into red berries that turn darker with age. Loves the heat and does great indoors.
You may also be interested in these related Bonsai Trees and supplies:

Ficus Bonsai Tree with Curved Trunk and Banyan Roots (ficus benjamina)
- Sale Price: $175.00
This ever popular Ficus Benjamina is trained with a coiled trunk with banyan roots that lend character to the tree. Full evergreen canopy. Very easy indoor care.

Redwood Bonsai Tree - 5 Tree Forest Group (metasequoia glyptostroboides)
- Sale Price: $225.00
The most exciting of the Redwoods is the Dawn Redwood, a native of Manchuria China. They were thought to be extinct, but re-discovered in the 1940's. The Dawn Redwood is a true Redwood and like our Redwoods, they are a living fossil, an isolated "relic" species from a long time ago when there were vast forests of them. Seeds were introduced in the U.S. in 1948, and they have become increasingly popular as an ornamental tree. The foliage is more lacey than our native Redwood and unlike our native Redwood, they are deciduous. In the fall the light green sprays turn yellow, then bronze, and fall off. Only the Larches do that. Keep outdoors

Ginseng Ficus Bonsai Tree - Large (Ficus Retusa)
- Sale Price: $69.95
Also known as Banyan Fig and Taiwan Ficus. The Retusa has small dark green leaves which alternate up the stem and which are more oval than the Benjamina. Grey to reddish bark dotted with small horizontal flecks, similar to tiger-like markings. All have heavy trunks with exposed aerial roots. Among the most tolerant, versatile and trouble-free bonsai trees for indoor use.

Juniper Bonsai Tree - Trained (juniper procumbens nana)
- Sale Price: $150.00
This dwarf Juniper from Japan is the most popular evergreen in the U.S. When we think of a traditional bonsai and what it should look like we think of a "Juniper Procumbens Nana". They are very hardy, long-lived and tolerate many adverse conditions. This is an excellent tree for the beginner.

Miniature Figurine: Man Holding a Fan Sitting on a Rock - Brown Color - Fine Detail
- Sale Price: $5.95
Miniature Figurine Man Holding a Fan Sitting on a Rock - Brown Color - Fine Detail
User Comments:
There are currently 0 comments.