Fogger Indoor Water Fountain Fogger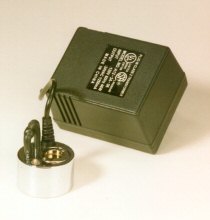 Sale Price: $49.95

From Bonsai Boy of NY
View User Comments
Fogger Indoor Water Fountain Fogger
Give your indoor fountain a more tropical look! It works like a humidifier ... ultrasonic vibrations make the water turn into "cool steam". In addition to providing fog for beauty and atmosphere it is also a wonderful aromatherapy diffuser. Just add a drop or two of scented oil (lavender, eucalyptus etc.) into the water and the fragrance will carry throughout the room.
- Fog fills up to a 12" diameter container approx 4"-5" high
- 1"x2"
- UL listed transformer and instructions included
- input voltage 115 VAC 60 HZ
- output voltage 36 VAC
- output electric current 1.2A
- Shuts off automatically when not submerged or when water level gets too low.
- 30 day guaranty
You may also be interested in these related Bonsai Trees and supplies:

Flowering Water Jasmine Bonsai Tree - Extra Large (wrightia religiosa)
- Sale Price: $125.00
The Water Jasmine, wrightia religiosa, is the material most often used for bonsai in Malaysia. It is widely planted as a hedge tree in southeast Asia countries because the wrightia is twiggy and is used for medicinal purposes. The Water Jasmine loves the heat and prefers as much direct sun as possible. It can be semi-deciduous during winter if not kept above 65 degrees Fahrenheit. The flowers are white, pendulous, and fill a room with a very lovely fragrance. Long, green bean-like seed pods follow flowering if insects pollinate the flowers.

Flowering Japanese Wisteria Bonsai Tree (wisteria floribunda)
- Sale Price: $59.95
This delightful wisteria we've all admired on a pergola or arbor has now been trained into a classic tree form. With its shiny, bright green foliage which falls in the autumn, and fragrant pea-like purple flowers dangling in clusters, this bonsai tree is a magnificent show stopper when in bloom. Deciduous. Keep outdoors.

Bonsai Conifer Soil Mix - 2 lbs. (1 Qt.)
- Sale Price: $6.95
Conifer Mix Bonsai Soil. Blend of ingredients appropriate for potting conifers.

Juniper Bonsai Tree - Trained (juniper procumbens nana)
- Sale Price: $150.00
This dwarf Juniper from Japan is the most popular evergreen in the U.S. When we think of a traditional bonsai and what it should look like we think of a "Juniper Procumbens Nana". They are very hardy, long-lived and tolerate many adverse conditions. This is an excellent tree for the beginner.

Flowering Mimosa Bonsai Tree - Large (leucaena glauca)
- Sale Price: $59.95
The Mimosa loves sun and is drought tolerant. It folds its leaves under water stress, preventing water loss and under severe conditions it will defoliate until the rains return. The Mimosa can bloom throughout the year. Flowers are white with a white base, looking like white pom poms and are self-fertilizing. It takes about four months after flowering for the long flattened pods to mature and liberate seeds. The Mimosa seeds have a hard coat which requires scarification (abrasion) and germination is usually 6-10 days after sowing. Fun tree and easy indoor care.
User Comments:
There are currently 0 comments.