Flowering Tropical Dwarf Apple Bonsai Tree (clusia rosea 'nana')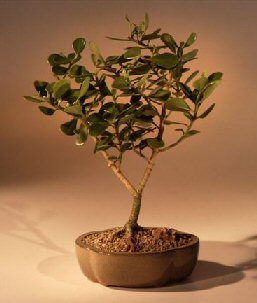 Sale Price: $49.95

From Bonsai Boy of NY
View User Comments
Flowering Tropical Dwarf Apple Bonsai Tree (clusia rosea 'nana')
A native to tropical America also known as Pitch Apple and is widely grown as an ornamental tree in tropical regions of the world. It is a compact evergreen tree that has attractive pink and white flowers and unique shaped fruit that is sometimes used in flower arrangements. The common name is derived from the unique leathery paddle leaves, but also known as the "Autograph Tree." In fact, you can scratch your name onto the surface of a leaf and the mark will remain for quite some time. Very easy indoor maintenance.
You may also be interested in these related Bonsai Trees and supplies:

Hawaiian Umbrella Bonsai Tree - Small - In Lava Rock (arboricola schefflera 'luseanne')
- Sale Price: $39.95
Real Hawaiian lava rock is hand selected to provide a happy home for your Schefflera Luseanne bonsai. Schefflera Luseanne are extra special, patented trees that stay smaller and more compact than the ordinary varieties. Place in a bright window or on a countertop. Best to keep some water in a humidity/drip tray/saucer and fertilize monthly at half the manufacturers recommended strength with a water soluble fertilizer found in your local garden shop or on our website. With reasonable care your volcano bonsai should last for years.

Superthrive Vitamins and Hormones (Large Size)-1 Pint (480 ml)
- Sale Price: $49.95
Saves plants from waiting to make many life-process complexes, carbon, hydrogen and oxygen. 50 vitamins and hormones in one for immediate use by plants, Add one drop to each gallon of fertilizer mixture and apply when watering.

Snowbush Bonsai Tree (breynia disticha)
- Sale Price: $49.95
A relative of the "roseo-picta" cultivars. The Snowbush or Snow-on-the-Mountain as it is commonly called is accented by its leaf size and color, which vary depending on lighting conditions. In moderate light it will produce larger leaves with some white color and a more sparse form. Grown in some sun it will produce smaller leaves, a more dense and compact form, and will have significantly more white and pink in the new and older growth. Easy to care for indoors.

Starter Kit - Shimpaku Juniper Make Your Own Bonsai Tree
- Sale Price: $69.95
Make your own Bonsai Tree. Everything you need to create your own bonsai tree. Kit includes the following:

Mica Bonsai Pot - Oval 17x11.75x4.0
- Sale Price: $56.95
Mica Pots imported from Korea are made of 80% mica, 15% polyethelene and 5% graphite. Mica has a natural ability to stabilize the temperature of the soil in the pots. This promotes healthy root activity during the growing season and protects during the cold periods. These pots are extremely durable and will withstand the element for years. The pot has a wide lip and is dark brown in color.
User Comments:
There are currently 0 comments.