Flowering Tropical Boxwood Bonsai Tree - Small (neea buxifolia)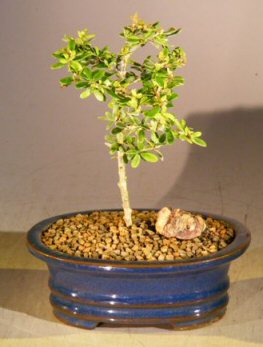 Sale Price: $24.95

From Bonsai Boy of NY
View User Comments
Flowering Tropical Boxwood Bonsai Tree - Small (neea buxifolia)
Neea buxifolia is a versatile tree native to Puerto Rico. Commonly spelled "Nia", the botanical name is "Neea". It is a member of the Bouganvillea family with leaves about one quarter inch long and oblong with a rounded apex. This tree is especially attractive during the growing season due to the deep red color of its new shoots. Neea bears small flowers in spring and summer followed by little red mature fruit in summer. Great for indoors.
You may also be interested in these related Bonsai Trees and supplies:

Grow Bulb Compact Fluorescent 26 Watt / 100 Watt Equivalent
- Sale Price: $13.95
Compact fluorescent daylight spectrum grow bulb. Great for all indoor bonsai trees and plants.

Hawaiian Umbrella Bonsai Tree Roots Growing Over Rock, Large (Arboricola Schefflera)
- Sale Price: $99.95
Root over Rock. This is the tree that we recommend if you are inexperienced with bonsai or you do not have a green thumb. In our opinion it is one of the easiest bonsai trees to care for and is a very beautiful trouble-free evergreen. If you don't know which tree to purchase as a gift for someone, this is the tree to select. This versatile tree is great for home, office, dorm or anywhere and does well in low to high lighting conditions. Our tree features tiny umbrella shaped leaves forming a dense green canopy. This impressive trouble-free evergreen has exposed roots growing over a large textured rock and down into the soil. Very popular and easy to care for.

Miniature Ceramic Fisherman Figurine Fisherman Sitting On A Log - Blue Color
- Sale Price: $10.95
Finely detailed miniature ceramic fisherman figurine. Fisherman sitting on a log.

Oriental Ficus Bonsai Tree Banyan Style (benjamina 'orientalis')
- Sale Price: $150.00
Our unique specimen bonsai features extensive banyan roots growing down into the soil. This impressive broadleaf, trouble-free evergreen has smaller leaves than the Benjamina. Very easy indoor maintenance.

Ceramic Bonsai Pot With Matching Tray 11.25x7.5 Tall Mustard Color Round
- Sale Price: $66.00
Ceramic Bonsai Pot With Matching Tray
User Comments:
There are currently 0 comments.