Flowering Tropical Boxwood Bonsai Tree - Small (neea buxifolia)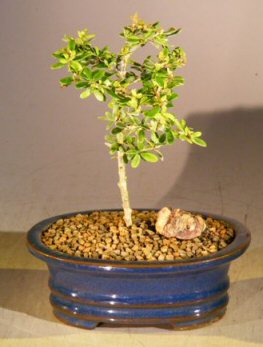 Sale Price: $24.95

From Bonsai Boy of NY
View User Comments
Flowering Tropical Boxwood Bonsai Tree - Small (neea buxifolia)
Neea buxifolia is a versatile tree native to Puerto Rico. Commonly spelled "Nia", the botanical name is "Neea". It is a member of the Bouganvillea family with leaves about one quarter inch long and oblong with a rounded apex. This tree is especially attractive during the growing season due to the deep red color of its new shoots. Neea bears small flowers in spring and summer followed by little red mature fruit in summer. Great for indoors.
You may also be interested in these related Bonsai Trees and supplies:

Flowering Podocarpus Bonsai Tree with Curved Trunk (podocarpus macrophyllus)
- Sale Price: $295.00
Aka Buddhist Pine or Chinese Yew. The Podocarpus is a dense evergreen with pointed, leathery, dark green leaves arranged on stiff, symmetrical branches. The tree which is unisexual, has male flowers in cones and female flowers composed of cylindrical thickened scales. The fruits are edible, pendiculate, fleshy and brightly colored. New floiage appears light green in color that turns darker with age. Our tree is trained in the traditional bonsai style with a curved trunk and tiered branches. Grows very well albeit slowly indoors.

Colorado Lava Rock Granules Bonsai Tree Soil Additive - 5 lbs. (2.5 Qts.)
- Sale Price: $12.95
Lava Rock is a naturally occurring volcanic cinder that has a porous structure which makes the material lightweight and highly moisture retentive. Incorporate into your bonsai soil mix to increase drainage (aeration). It will absorb up to 40% of its weight in water. Small lava rock (1/4 to 3/8 inch) is the best "sand" component around because it is "sharp" and has very irregular surfaces.

Ceramic Bonsai Pot - Oval Unglazed
- Sale Price: $14.50
Oval, unglazed, ceramic bonsai pot. Measures 8"x6.125"x2.5"

Juniper Bonsai Tree - Trained (juniper procumbens nana)
- Sale Price: $89.95
This dwarf Juniper from Japan is the most popular evergreen in the U.S. When we think of a traditional bonsai and what it should look like we think of a "Juniper Procumbens Nana". They are very hardy, long-lived and tolerate many adverse conditions. Trained style.

Flowering Cotoneaster - Curved Trunk Style (Cotoneaster 'Lucidus')
- Sale Price: $39.95
The Cotoneaster has small, oval, dark green leaves changing to yellow, orange and red in autumn. Flowers are pale-pink, small and clustered blooming in early June. Grows an attractive, blackish pom fruit in early June, about half an inch in diameter, which ripens between September and October. The bark is tan in color and has a pattern resembling fishbone. Deciduous. Keep outdoors.
User Comments:
There are currently 0 comments.