Flowering Tropical Boxwood Bonsai Tree (neea buxifolia)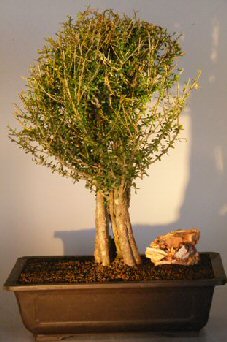 Sale Price: $275.00

From Bonsai Boy of NY
View User Comments
Flowering Tropical Boxwood Bonsai Tree (neea buxifolia)
Neea buxifolia is a versatile tree native to Puerto Rico. Commonly spelled "Nia", the botanical name is "Neea". It is a member of the Bouganvillea family with leaves about one quarter inch long and oblong with a rounded apex. This tree is especially attractive during the growing season due to the deep red color of its new shoots. Neea bears small flowers in spring and summer followed by little red mature fruit in summer. Great for indoors.
You may also be interested in these related Bonsai Trees and supplies:

Ceramic Bonsai Pot With Attached Humidity/Drip tray- Professional Series Rectangle 8.5 x 6.5 x 3.59
- Sale Price: $19.25
Imported ceramic bonsai pot.

Mini Pump
- Sale Price: $37.95
For those do-it-your-selfers who want to create their own table-top fountain or bonsai waterfall design, we have the perfect pump: High performance multi-use submersible pump with adjustable flow. Provides exceptional pumping capacity with the smallest possible size(106gph). Noiseless, minimum maintenance, motor self protected against overheating, minimum power consumption. The unique, parallel arrangement of the electric cord and output permits easy installation in highly restricted areas. Can be operated flat 1 1/4" or upright 2 1/4" in as little as 1 1/4" of water (centimeters). The output tube is not rigidly connected and can be twisted to allow installation without twisting any flexible tubing that may be connected. A suction cup support is provided for a more stable and silent operation. Made in Italy.

Hawaiian Umbrella Bonsai Tree - Stone Landscape Scene (Arboricola Schefflera)
- Sale Price: $59.95
This is the tree that we recommend if you are inexperienced with bonsai or you do not have a green thumb. In our opinion it is one of the easiest bonsai trees to care for. We cut and cement rocks to one side of the pot with an ample well to hold water. A ceramic bridge is cemented to the rocks on either side. A pagoda figurine is also added and cemented to the stone located above the bridge. To complete the scene, we cement a miniature glazed mud figurine fisherman overlooking the water holding a fishing pole and fish.

Zinc Watering Can - Pastel Green Color 9.5 x 5.5 10.0 Tall
- Sale Price: $29.95
Zinc watering can with removable fine spray rose head.

Snowbush Bonsai Tree (breynia disticha)
- Sale Price: $49.95
A relative of the "roseo-picta" cultivars. The Snowbush or Snow-on-the-Mountain as it is commonly called is accented by its leaf size and color, which vary depending on lighting conditions. In moderate light it will produce larger leaves with some white color and a more sparse form. Grown in some sun it will produce smaller leaves, a more dense and compact form, and will have significantly more white and pink in the new and older growth. Easy to care for indoors.
User Comments:
There are currently 0 comments.