Flowering Tropical Boxwood Bonsai Tree - Large (neea buxifolia)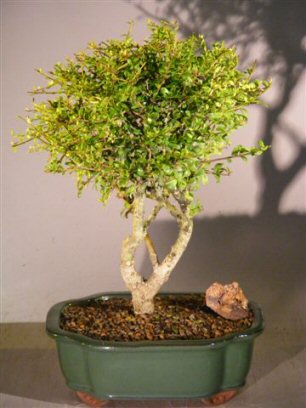 Sale Price: $69.95

From Bonsai Boy of NY
View User Comments
Flowering Tropical Boxwood Bonsai Tree - Large (neea buxifolia)
Neea buxifolia is a versatile tree native to Puerto Rico. Commonly spelled "Nia", the botanical name is "Neea". It is a member of the Bouganvillea family with leaves about one quarter inch long and oblong with a rounded apex. This tree is especially attractive during the growing season due to the deep red color of its new shoots. Neea bears small flowers in spring and summer followed by little red mature fruit in summer. Great for indoors.
You may also be interested in these related Bonsai Trees and supplies:

Wire Bonsai Mini Tree Sculpture 4x4x4
- Sale Price: $49.95
Made of 26 gauge galvanized steel wire. Mounted on a piece of free formed solid glass using sea sand and a bonding agent. The sand and small pebbles are painted with India ink to look like moss covered earth.

Flowering Lavender Star Flower Bonsai Tree - Medium (Grewia Occidentalis)
- Sale Price: $45.95
Medium evergreen tree 10" tall, native to Africa and Australia with 400 species worldwide. Awesome purple/mauve 1" wide flowers borne along the stem at the end of spring and then, occasionally, the rest of the year. Good indoors. Provide some sun to help generate blooms.

Stainless Steel Sieve Set 4 Pieces With 3 Screens
- Sale Price: $49.95
Stainless steel 4 piece sieve set with 3 screens. Used to sift soil, gravel, mulch, akadama and grit.

Flowering Brush Cherry - Christmas Tree Style (eugenia myrtifolia)
- Sale Price: $89.95
Also called Syzgium Paniculatum, Australian Brush Cherry. Has small handsome evergreen leaves which are firm and glossy. White puffy blooms are attractive in spring and summer. If it receives enough light, the leaves will develop red highlights. Christmas tree style. Great for indoors.

Wooden Buddha - Handcarved
- Sale Price: $69.95
Handcarved Wooden Buddha
User Comments:
There are currently 0 comments.