Flowering Tropical Boxwood Bonsai Tree - Large (neea buxifolia)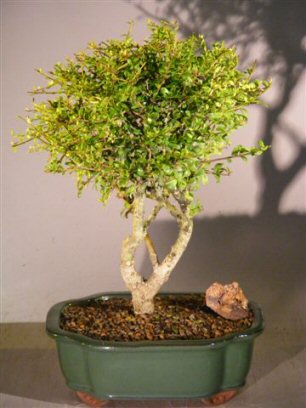 Sale Price: $69.95

From Bonsai Boy of NY
View User Comments
Flowering Tropical Boxwood Bonsai Tree - Large (neea buxifolia)
Neea buxifolia is a versatile tree native to Puerto Rico. Commonly spelled "Nia", the botanical name is "Neea". It is a member of the Bouganvillea family with leaves about one quarter inch long and oblong with a rounded apex. This tree is especially attractive during the growing season due to the deep red color of its new shoots. Neea bears small flowers in spring and summer followed by little red mature fruit in summer. Great for indoors.
You may also be interested in these related Bonsai Trees and supplies:

Shimpaku Juniper Bonsai Tree Planted on a Rock Slab (juniperus chinensis)
- Sale Price: $99.95
Also known as the Chinese Juniper. This needled evergreen is tolerant of a wide variety of soils and is dioecious which means that there are male and female plants. Shimpaku is a naturally irregular vase shaped Juniper which we grow into a trditional upright style. The Shimpaku has attractive year round foliage and its dark green needles are soft to the touch. Very popular and easy to care for bonsai.

Ceramic Bonsai Pot - Professional Series Rectangle 10.0 x 8.0 x 4.0
- Sale Price: $23.95
Imported ceramic bonsai pot

Ceramic Bonsai Pot - Oval 20.25x16.5x5.0
- Sale Price: $142.75
Imported glazed Chinese pot, blue color, oval

Flowering Red Anthurium In Hawaiian Lava Rock (small talk) Bonsai Tree (anthurium andraeanum)
- Sale Price: $49.95
Anthurium is the most popular and long lasting of all tropical flowers. Our premium red Anthurium, from anthos, meaning flower, and oura, meaning tail, refers to the many tiny-like spadix. These bright red colored beauties (currently in bloom) are the most well known the world over. Real Hawaiian lava rock is hand selected to provide a happy home for your Anthurium. Our Anthuriums have been specially hybridized for use as houseplants due to their trouble-free growing requirements. With reasonable care your volcano bonsai should last for years. Place in a bright window or on a countertop without direct sun and best to keep a small amount of water in a saucer/tray. Fertilize monthly at 1/2 strength with a soluable fertilizer found at your local garden shop or on our website.

Flowering Podocarpus Bonsai Tree with Curved Trunk (podocarpus macrophyllus)
- Sale Price: $295.00
Aka Buddhist Pine or Chinese Yew. The Podocarpus is a dense evergreen with pointed, leathery, dark green leaves arranged on stiff, symmetrical branches. The tree which is unisexual, has male flowers in cones and female flowers composed of cylindrical thickened scales. The fruits are edible, pendiculate, fleshy and brightly colored. New floiage appears light green in color that turns darker with age. Our tree is trained in the traditional bonsai style with a curved trunk and tiered branches. Grows very well albeit slowly indoors.
User Comments:
There are currently 0 comments.