Flowering Tropical Boxwood Bonsai Tree - Large (neea buxifolia)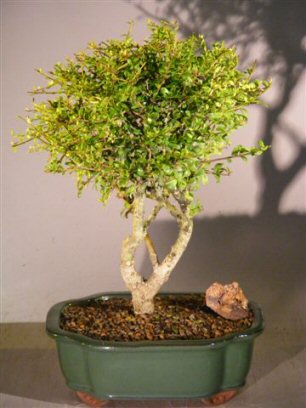 Sale Price: $69.95

From Bonsai Boy of NY
View User Comments
Flowering Tropical Boxwood Bonsai Tree - Large (neea buxifolia)
Neea buxifolia is a versatile tree native to Puerto Rico. Commonly spelled "Nia", the botanical name is "Neea". It is a member of the Bouganvillea family with leaves about one quarter inch long and oblong with a rounded apex. This tree is especially attractive during the growing season due to the deep red color of its new shoots. Neea bears small flowers in spring and summer followed by little red mature fruit in summer. Great for indoors.
You may also be interested in these related Bonsai Trees and supplies:

Ceramic Orchid Pot With Matching Attached Saucer 7.625x6.125
- Sale Price: $23.95
Ceramic orchid pot with matching attached saucer.

Juniper Bonsai Tree (juniper procumbens 'nana')
- Sale Price: $89.95
This dwarf Juniper from Japan is the most popular evergreen in the U.S.A. When we think of a traditional bonsai and what they should look like, we think of a "Juniper Procumbens Nana". They are very hardy, long-lived and tolerate many adverse conditions. This is an excellent tree for the beginner.

Ficus Retusa Bonsai Tree with Banyan Roots (ficus retusa)
- Sale Price: $250.00
Also known as Banyan Fig. The Retusa has small, dark green leaves which are more oval than the Benjamina. Grey to reddish bark dotted with small horizontal flecks, similar to tiger-like markings. Has a heavy trunk, tiered layered style branches and extensive banyan roots. The Retusa is among the most tolerant, versatile and trouble-free bonsai trees for indoor use.

Ceramic Bonsai Pot - Rectangle 14.0x11.5x4.0
- Sale Price: $72.00
Imported glazed Chinese pot, blue color, rectangle

Redwood Bonsai Tree - 5 Tree Forest Group (metasequoia glyptostroboides)
- Sale Price: $225.00
The most exciting of the Redwoods is the Dawn Redwood, a native of Manchuria China. They were thought to be extinct, but re-discovered in the 1940's. The Dawn Redwood is a true Redwood and like our Redwoods, they are a living fossil, an isolated "relic" species from a long time ago when there were vast forests of them. Seeds were introduced in the U.S. in 1948, and they have become increasingly popular as an ornamental tree. The foliage is more lacey than our native Redwood and unlike our native Redwood, they are deciduous. In the fall the light green sprays turn yellow, then bronze, and fall off. Only the Larches do that. Keep outdoors
User Comments:
There are currently 0 comments.