Flowering Top Hat Blueberry Bonsai Tree (vaccinium corymbosum argustifolium)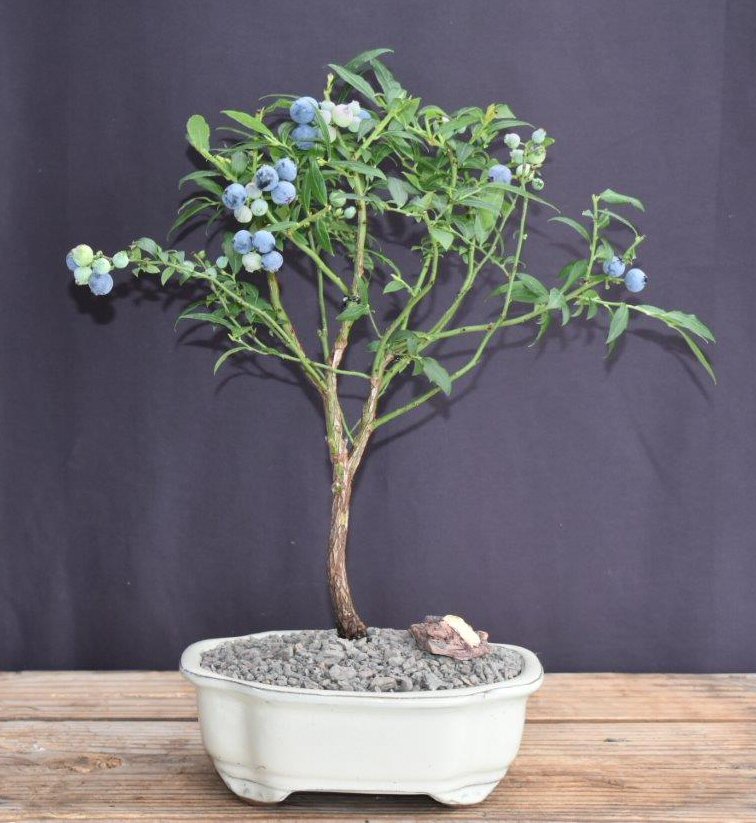 Sale Price: $39.95

From Bonsai Boy of NY
View User Comments
Flowering Top Hat Blueberry Bonsai Tree (vaccinium corymbosum argustifolium)
Our dwarf Top Hat Blueberry is native to northern and alpine North America. Loaded with small white blooms in spring followed by sweet full size 1/2" delicious, edible blueberries. It has a harvest season of one month starting in early August. Self pollinating. Only 18" when fully grown. The foliage turns a bright red color in the fall. It's small, glossy leaves, gnarly trunk and slow growth make this the best edible bonsai. Deciduous. Keep outdoors.
You may also be interested in these related Bonsai Trees and supplies:

Flowering Rosemary Christmas Tree Style (rosmarinus officinalis)
- Sale Price: $99.95
Native to the Mediterranean sea coast, Rosemary is an evergreen with narrow, aromatic dark green leaves that are the source of the herb Rosemary. It bears small clusters of light lavender blue flowers in spring and summer. Add a fresh touch to your meals with the clippings of this bonsai tree.

Pre Bonsai Baby Jade Bonsai Tree - Medium Portulacaria Afra
- Sale Price: $19.95

Flowering Red Anthurium In Hawaiian Lava Rock (small talk) Bonsai Tree (anthurium andraeanum)
- Sale Price: $49.95
Anthurium is the most popular and long lasting of all tropical flowers. Our premium red Anthurium, from anthos, meaning flower, and oura, meaning tail, refers to the many tiny-like spadix. These bright red colored beauties (currently in bloom) are the most well known the world over. Real Hawaiian lava rock is hand selected to provide a happy home for your Anthurium. Our Anthuriums have been specially hybridized for use as houseplants due to their trouble-free growing requirements. With reasonable care your volcano bonsai should last for years. Place in a bright window or on a countertop without direct sun and best to keep a small amount of water in a saucer/tray. Fertilize monthly at 1/2 strength with a soluable fertilizer found at your local garden shop or on our website.

Flowering Pink Serissa (Serissa Foetida)
- Sale Price: $69.95
This sub-tropical evergreen imported from Japan, blooms profusely with beautiful pink or double pink rose-shaped miniature flowers. Small foliage. Very slow grower. Excellent for beginner.

Baby Jade Bonsai Tree (Portulacaria Afra)
- Sale Price: $250.00
This succulent bonsai, also known as the "Elephant Bush", is native to South Africa and has pale green leaves that are almost round and about one-third the size of the common Jade plant. The fleshy trunk, branches, and leaves are used to store water. An excellent bonsai tree for indoors.
User Comments:
There are currently 0 comments.