Flowering Tamarind Bonsai Tree (tamarindus indica)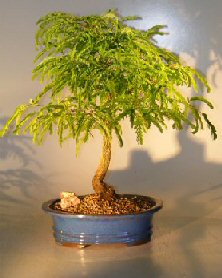 Sale Price: $99.95

From Bonsai Boy of NY
View User Comments
Flowering Tamarind Bonsai Tree (tamarindus indica)
Native to tropical Africa and naturalized around the world. The Tamarind is an attractive tree valued for its shade and edible fruit. The foliage is bright green, dense, pinnate and feathery in appearance. The leaflets close at night. The inconspicuous, inch-wide, five petaled flowers are borne in small racemes and are yellow with orange or red streaks. The flower buds are pink due to the outer color of the four sepals which are shed when the flower opens. The Tamarind is long-lived and slow growing. Prized as bonsai due to the very attractive rough bark that it develops. Makes a great indoor bonsai.
You may also be interested in these related Bonsai Trees and supplies:

Dwarf Flowering Water Jasmine (wrightia vietnamensis)
- Sale Price: $59.95
This rare variety of the famous Wrightia is also known as the Dwarf Sacred Buddhist. It is perfect for bonsai and for everyone who has limited space but wants to enjoy Wrightia fragrance. The perfume is sweet and heavy. It has small leaves and small, white, single, fragrant flowers. Can tolerate some cool temperatures for a short period but is sensitive to freezing.

Oriental Ficus Bonsai - 3 Tree Group (ficus benjamina 'orientalis')
- Sale Price: $175.00
Fig species which is native to South and Southeastern Asia. These evergreen trees are particularly good for bonsai training, as they produce sturdy trunks, good branching characteristics and shiny leaves. Great for indoors year round. The brighter the location, the more compact the growth. Three tree forest group, easy maintenance.

Shimpaku Bonsai Tree In Lava Rock - Large (juniper chinensis)
- Sale Price: $69.95
Also known as the Chinese Juniper. This needled evergreen is tolerant of a wide variety of soils and is dioecious which means that there are separate male and female plants. Shimpaku is a naturally irregular vase shaped Juniper which we grow into a mound shape with a curved trunk. The Shimpaku has attractive year round foliage and its dark green needles are soft to the touch. Very popular and easy to care for bonsai.

Japanese Kingsville Boxwood Bonsai Tree Land/Water Container - Medium (buxus microphylla compacta)
- Sale Price: $49.95
Native to Japan the Kingsville Boxwood is an extremely slow growing tree. It has the smallest leaf of all Boxwoods which is why it is sought after for bonsai. The Kingsville Boxwood is an evergreen tree with light green leaves and has excellent branching characteristics. A great indoor bonsai tree recommended by the Brooklyn Botanical Gardens.

Ceramic Bonsai Pot With Attached Humidity/Drip Tray- Professional Series Rectangle 8.5 x 6.5 x 3.5
- Sale Price: $19.25
Imported ceramic bonsai pot.
User Comments:
There are currently 0 comments.