Flowering Surinam Cherry Bonsai Tree (eugenia uniflora)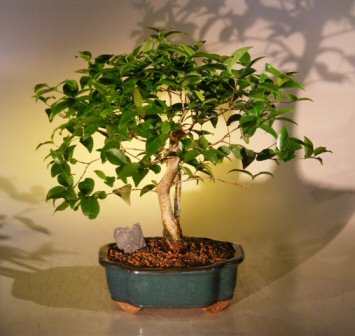 Sale Price: $89.95

From Bonsai Boy of NY
View User Comments
Flowering Surinam Cherry Bonsai Tree (eugenia uniflora)
The Surinam Cherry is a sub-tropical evergreen with dark green ovate leaves formed in pairs. Striking red exfoliating (flaking) bark. In spring, may bear small white flowers which is followed by red edible fruit. Popular landscape tree in the southern part of the USA. Ours is trained in the broom style. Does very well indoors.
You may also be interested in these related Bonsai Trees and supplies:

Flowering Crabapple (Malus Sargenti)
- Sale Price: $89.95
Flowering crabapples are one of the best flowering trees for bonsai. They produce beautiful white, fragrant flowers covering the entire tree in early spring before the foliage appears. The foliage is really small and lobed. Little green pomes (apples) appear in summer, derived from the enlargement of the entire flower receptacle which becomes fleshy. The fruit ripens to all different colors in the fall when the foliage begins to turn to shades of yellow, orange and red. Winter brings a nice twiggy skeletal outline punctuated by the fruit which persists throughout the winter. They are easy to grow and quite pest and disease resistant. Deciduous. Keep outdoors. Available 12 months a year. Will have no foliage during winter months.

Hose Nozzle Replacement Disk
- Sale Price: $4.95
Stainless steel rosehead (water breaker) replacement disk.

Ceramic Bonsai Pot - Oval Unglazed
- Sale Price: $14.50
Oval, unglazed, ceramic bonsai pot. Measures 8"x6.125"x2.5"

Oval Mica Bonsai Pot - 11 1/4 x 8 x 3
- Sale Price: $24.95
Mica pots from Korea are made of 80% mica, 15% polyethylene and 5% graphite. Mica has a natural ability to stabilize the temperature of the soil in the pots. This promotes healthy root activity during the growing season and protects during the cold periods. These pots are durable and will withstand the elements for years. The pot has a wide lip and is dark brown in color.

Flowering Pyracantha Bonsai Tree (Coccinea (Lalandii)
- Sale Price: $59.95
Also known as the Firehorn the Pyracantha is an evergreen that is cherished for its spectacular fall and winter display of scarlet fruits. Birds, like the plump , colorful berries that begin to ripen in the fall, their color mellowing from green to shades of red, orange, or yellow. The brilliant berry - laden branches hold up extremely well as cut arrangements and add interest and color to wreaths. Clusters of small dreamy fragrant white flowers appear in the spring, and are borne close together creating the appearance of neatly solid surface of flowers.
User Comments:
There are currently 0 comments.