Flowering Princess Earrings Bonsai Tree - Small (dichrostachys cinerea)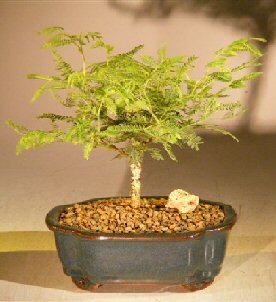 Sale Price: $29.95

From Bonsai Boy of NY
View User Comments
Flowering Princess Earrings Bonsai Tree - Small (dichrostachys cinerea)
A small semi-deciduous tropical tree native to South Africa. It is also known as Bell Mimosa, Chinese Lantern or Rabbit's Foot Acacia. The word 'dichrostachys' means '2 colored spike' and 'cinerea' refers to its greyish hairs. The delicate pink and yellow inflorescens resembles precious earrings hanging from a tree. The flower starts off pink and the next day it fades to white. Can produce blooms almost year round in full sun. The fruit and seeds that are produced are edible and the flowers can be a valuable source of honey. Wonderful flowering bonsai for indoors.
You may also be interested in these related Bonsai Trees and supplies:

Ficus Bonsai Tree - Variegated in lava rock (ficus benjamina)
- Sale Price: $39.95
The Ficus Benjamina is an indoor tropical bonsai tree that is easy to care for. The Benjamina has evergreen leaves with a splash of yellow which is called "variegated". The leaf size can be reduced by trimming. Trimming will also keep the tree tight, full, and compact as will direct sun.

Artificial Flowering Desert Rose Bonsai Tree
- Sale Price: $59.95
The flowers and branches of this artificial Desert Rose tree are created from luna clay making them very flexible and, therefore, can be adjusted to your personal preferences or left as shown in the image. The hand-painted flowers are so life-like that people will want to touch them to see if they are real. This tree will retain its beauty for many years to come and can be cleaned with a dampened cloth.

Hawaiian Umbrella Bonsai Tree - Banyan Style plus Three (3) Tree Forest Group (arboricola schefflera)
- Sale Price: $160.00
This is the tree that we recommend if you are inexperienced with bonsai or you do not have a green thumb. In our opinion it is one of the easiest bonsai trees to care for and is a very beautiful "trouble-free" evergreen. If you don't know which tree to purchase as a gift for someone, this is the tree to select. This versatile tree is great for home, office, dorm or anywhere and does well in low to high lighting conditions. Our tree features tiny umbrella shaped leaves forming a dense green canopy. Very popular and easy indoor care. Our Hawaiian Umbrella bonsai tree with banyan roots is truly a work of art by mother nature. Anyone would be proud to own this impressive conversation piece.

Ceramic Bonsai Pot - Glazed Oval
- Sale Price: $4.50
Glazed oval Ceramic Bonsai Pot

Flowering Dwarf Plum - Small (carissa macrocarpa)
- Sale Price: $29.95
The Natal Dwarf Plum is a semi-tropical evergreen, bearing fragrant, star-shaped white flowers and, following pollination, dark red edible plum-shaped fruit. Easy indoor care.
User Comments:
There are currently 0 comments.