Flowering Princess Earrings Bonsai Tree - Medium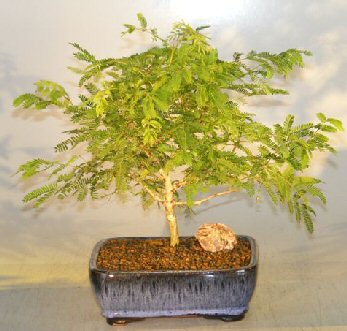 Sale Price: $49.95

From Bonsai Boy of NY
View User Comments
Flowering Princess Earrings Bonsai Tree - Medium
A small semi-deciduous tropical tree native to South Africa. It is also known as Bell Mimosa, Chinese Lantern or Rabbit's Foot Acacia. The word 'dichrostachys' means '2 colored spike' and 'cinerea' refers to its greyish hairs. The delicate pink and yellow inflorescens resembles precious earrings hanging from a tree. The flower starts off pink and the next day it fades to white. Can produce blooms almost year round in full sun. The fruit and seeds that are produced are edible and the flowers can be a valuable source of honey. Wonderful flowering bonsai for indoors.
You may also be interested in these related Bonsai Trees and supplies:

Mistletoe Fig Bonsai Tree (ficus diversifolia)
- Sale Price: $39.95
There are over 800 species of the Ficus genus. The Mistletoe Fig is one of the few Ficus that will fruit in the house. The leaves bear tiny brown spots and the pea sized fruits appear all year round and are inedible. The oval shaped leaves look just like mistletoe. Very slow grower. Excellent for indoors.

Ceramic Frog Miniature Figurine
- Sale Price: $3.95
Ceramic Frog Miniature Figurine.

Mini Pump
- Sale Price: $37.95
For those do-it-your-selfers who want to create their own table-top fountain or bonsai waterfall design, we have the perfect pump: High performance multi-use submersible pump with adjustable flow. Provides exceptional pumping capacity with the smallest possible size(106gph). Noiseless, minimum maintenance, motor self protected against overheating, minimum power consumption. The unique, parallel arrangement of the electric cord and output permits easy installation in highly restricted areas. Can be operated flat 1 1/4" or upright 2 1/4" in as little as 1 1/4" of water (centimeters). The output tube is not rigidly connected and can be twisted to allow installation without twisting any flexible tubing that may be connected. A suction cup support is provided for a more stable and silent operation. Made in Italy.

Ginseng Ficus Bonsai Tree - Small (Ficus Retusa)
- Sale Price: $29.95
Also known as Banyan Fig and Taiwan Ficus. The Retusa has small dark green leaves which alternate up the stem and which are more oval than the Benjamina. Grey to reddish bark dotted with small horizontal flecks, similar to tiger-like markings. All have heavy trunks with exposed aerial roots. Among the most tolerant, versatile and trouble-free bonsai trees for indoor use.

Single Point Root Rake
- Sale Price: $19.95
Used to separate small and medium sized capillary roots during transplanting and repotting. Has a single steel prong. Simple, yet a necessary tool for bonsai enthusiasts. 8" overall.
User Comments:
There are currently 0 comments.