Flowering Princess Earrings Bonsai Tree - Medium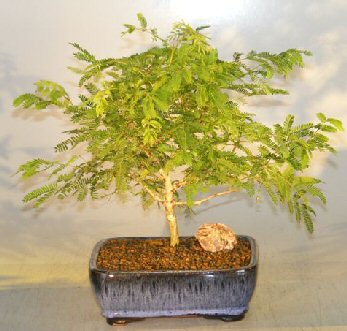 Sale Price: $49.95

From Bonsai Boy of NY
View User Comments
Flowering Princess Earrings Bonsai Tree - Medium
A small semi-deciduous tropical tree native to South Africa. It is also known as Bell Mimosa, Chinese Lantern or Rabbit's Foot Acacia. The word 'dichrostachys' means '2 colored spike' and 'cinerea' refers to its greyish hairs. The delicate pink and yellow inflorescens resembles precious earrings hanging from a tree. The flower starts off pink and the next day it fades to white. Can produce blooms almost year round in full sun. The fruit and seeds that are produced are edible and the flowers can be a valuable source of honey. Wonderful flowering bonsai for indoors.
You may also be interested in these related Bonsai Trees and supplies:

Flowering Fukien Tea Bonsai Tree Curved Trunk & Tiered Branching Style (ehretia microphylla)
- Sale Price: $275.00
Native to the Fujan province of China. This tree has small white flowers that can bloom at any time. The foliage is dark green and small in size. The flowers turn into red berries that turn darker with age. Trained in the traditional tiered layered style with a curved trunk. Has exposed roots which give the appearance of great age. Loves the heat and does very well indoors.

Paper Birch Bonsai Tree (betula papyrifera)
- Sale Price: $79.95
Also known as Canoe Birch. Most ornamental of native birch trees. Bark is usually smooth chalk-white and peels in papery layers. Golden fall color. Deciduous, keep outdoors.

Norfolk Island Pine Bonsai Tree Land/Water Container - Small (Araucaria Heterophila)
- Sale Price: $39.95
Open and airy conifer (cone bearing) with light green foliage turning darker with age. One of the best known trees from the South Pacific. Will tolerate warm temperatures and does not even object to dryness, although it does not like glaring sunshine. Decorates well for any holiday or season. Forest tree group - each 5 years old. Very easy indoor care. Our tree is planted in a water pot which has a well on one side that holds water. We include a fisherman figure along with a fishing pole and ceramic fish. The entire landscape is arranged in an attractive, glazed, imported ceramic container.

Single Point Root Rake
- Sale Price: $19.95
Used to separate small and medium sized capillary roots during transplanting and repotting. Has a single steel prong. Simple, yet a necessary tool for bonsai enthusiasts. 8" overall.

Dish Garden
- Sale Price: $59.95
Three different bonsai trees are included in our dish garden which also includes a handsome, decorative rock. The trees selected are low maintenance indoor material consisting of a Norfolk Island Pine, Ficus and Flowering Brush Cherry and are easy to care for.
User Comments:
There are currently 0 comments.