Flowering Podocarpus Bonsai Tree with Curved Trunk (podocarpus macrophyllus)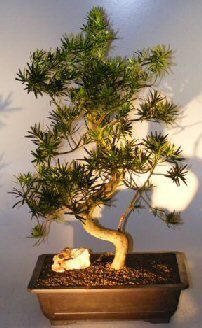 Sale Price: $295.00

From Bonsai Boy of NY
View User Comments
Flowering Podocarpus Bonsai Tree with Curved Trunk (podocarpus macrophyllus)
Aka Buddhist Pine or Chinese Yew. The Podocarpus is a dense evergreen with pointed, leathery, dark green leaves arranged on stiff, symmetrical branches. The tree which is unisexual, has male flowers in cones and female flowers composed of cylindrical thickened scales. The fruits are edible, pendiculate, fleshy and brightly colored. New floiage appears light green in color that turns darker with age. Our tree is trained in the traditional bonsai style with a curved trunk and tiered branches. Grows very well albeit slowly indoors.
You may also be interested in these related Bonsai Trees and supplies:

Bonsai Display Table - 15 x 11 x 3.75
- Sale Price: $99.95
Beautifully hand-crafted Pecky Cypress display table. The pecky effect is a kind of sculpturing process which has been produced by nature. Once the tree has been harvested, the causative agent within the tree completely disappears leaving only the characteristic pocketing it formerly created. The beautiful grains of knotty effects will serve to enhance the beauty of your favorite bonsai tree.

Willow Leaf Ficus Bonsai Tree - Root over Rock (nerifolia/salicafolia)
- Sale Price: $150.00
Also known as Mexicana Ficus. Elongated, light green leaves have a striking resemblance to the popular Weeping Willow tree. Our tree is grown with the roots growing over a large textured rock and then down into the soil. This tree does particularly well indoors.

Starter Kit - Juniper Procumbens Make Your Own Bonsai Tree
- Sale Price: $24.95
Make your own Bonsai Tree. Everything you need to create your own bonsai tree. Kit includes the following:

Ponytail Palm - Large (Beaucamea Recurvata)
- Sale Price: $79.95
The most striking feature of the Ponytail Palm is the swollen base of the trunk. The texture of the trunk looks and feels scaly like the foot of an elephant and is also known as Elephants Foot. The extraordinary thickening of the trunk serves as a water reservoir against dry spells, allowing the tree to go up to four (4) weeks without water and causing no ill effects. Excellent in low or higher lighting conditions. The Ponytail is an excellent choice for home, office or anywhere.

Miniature Ceramic Figurine Two Men Sitting at a Table with Fine Detail Color:Blue & Green
- Sale Price: $5.95
Miniature Ceramic Figurine: Two Men Sitting at a Table with Fine Detail
User Comments:
There are currently 0 comments.