Flowering Pink Almond (Prunus Glandulosa 'Rosea Plena')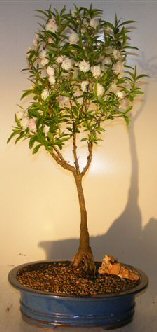 Sale Price: $89.95

From Bonsai Boy of NY
View User Comments
Flowering Pink Almond (Prunus Glandulosa 'Rosea Plena')
The Flowering Pink Almond is prized for heavy flowering in early spring. Branches literally covered with densely packed double pale pink blooms. It has attractive glossy foliage during growing season. Deciduous. Keep outdoors.
You may also be interested in these related Bonsai Trees and supplies:

Flowering Tropical Dwarf Apple Bonsai Tree (clusia rosea 'nana')
- Sale Price: $49.95
A native to tropical America also known as Pitch Apple and is widely grown as an ornamental tree in tropical regions of the world. It is a compact evergreen tree that has attractive pink and white flowers and unique shaped fruit that is sometimes used in flower arrangements. The common name is derived from the unique leathery paddle leaves, but also known as the "Autograph Tree." In fact, you can scratch your name onto the surface of a leaf and the mark will remain for quite some time. Very easy indoor maintenance.

Norfolk Island Pine Tree Forest Group In Lava Rock (araucaria heterophila)
- Sale Price: $39.95
Open and airy conifer (cone bearing) with light green foliage turning darker with age. One of the best know trees from the South Pacific. Will tolerate warm temperatures and does not even object to dryness, although it does not like glaring sunshine. Decorates well for any holiday or season. Very easy indoor care.

Chinese Flowering White Serissa in Lava Rock Pot Tree of a Thousand Stars (Serissa Japonica)
- Sale Price: $39.95
Tree of a Thousand Stars. The Japonica has somewhat elongated spoon shaped, shiny green leaves. It is a twiggy tree that grows tighter with shearing. This northern Chinese Serissa has small white trumpet shaped blossoms with a full upright canopy. Pot is a Lava Rock Pot. Popular indoor flowering bonsai tree.

Ceramic Bonsai Pot - Professional Series Oval 10.0 x 8.0 x 4.0
- Sale Price: $23.95
Imported ceramic bonsai pot

Bonsai Training Pot 7.75 L x 5.5 W x 2.25 H Heavy Duty Plastic
- Sale Price: $2.95
Bonsai Training Pot - Heavy Duty
User Comments:
There are currently 0 comments.