Flowering Persian Lime Bonsai Tree (citrus latifolia)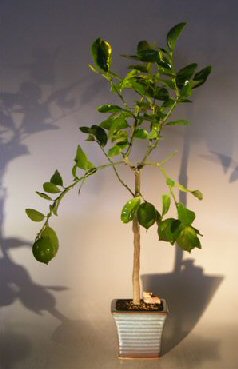 Sale Price: $89.95

From Bonsai Boy of NY
View User Comments
Flowering Persian Lime Bonsai Tree (citrus latifolia)
Also known as Tahiti Lime or Bears Lime. It is the primary citrus fruit grown commercially in the United States and sold simply as a lime. The fruit it about 6 cm in diameter, often with slightly nippled ends and is usually sold quite green. They are less acidic and are absent of thorns and seeds. Not as bitter as other limes. Good for indoors.
You may also be interested in these related Bonsai Trees and supplies:

Architectural Birdhouse (New England Dweller)
- Sale Price: $69.95
Our Architectural Birdhouse is handcrafted of kiln-dried hardwood, exterior grade ply-board and western red cedar or pine shingles for the roof. The finish is a non-toxic, oil-based paint. Our birdhouse is intended for use with wildlife and, therefore, no pressure-treated wood or harmful chemicals have been applied. The cedar shingles will naturally patina to a silvery gray color with sun bleaching. Structure is built with aeration slats for good air circulation. Solid wood with resin detail.

Ceramic Bonsai Pot - Land/Water 8.0 x 6.5 x 3.25
- Sale Price: $10.95
Imported, glazed, ceramic land/water pot. Beige color.

Bonsai Conifer Soil Mix - 2 lbs. (1 Qt.)
- Sale Price: $6.95
Conifer Mix Bonsai Soil. Blend of ingredients appropriate for potting conifers.

Flowering Dwarf Plum Bonsai Tree Water/Land Container - Small (carissa macrocarpa)
- Sale Price: $39.95
This is the tree that we recommend if you are inexperienced with bonsai or you do not have a green thumb. In our opinion it is one of the easiest bonsai trees to care for and it is a very beautiful trouble-free evergreen. If you don't know which tree to purchase as a gift for someone, this is the tree to select. Our tree features tiny umbrella shaped leaves forming a dense green canopy. On the other side of the planting is a well that holds water. We include a fisherman figurine along with a fishing pole and ceramic fish.

Flowering Water Jasmine Bonsai Tree - Medium (wrightia religiosa)
- Sale Price: $59.95
The Water Jasmine, wrightia religiosa, is the material most often used for bonsai in Malaysia. It is widely planted as a hedge tree in southeast Asia countries because the wrightia is twiggy and is used for medicinal purposes. The Water Jasmine loves the heat and prefers as much direct sun as possible. It can be semi-deciduous during winter if not kept above 65 degrees fahrenheit. The flowers are white, pendulous, and fill a room with a very lovely fragrance. Long, green bean-like seed pods follow flowering if insects pollinate the flowers.
User Comments:
There are currently 0 comments.