Flowering Parrot's Beak- Medium (gmelina philippensis)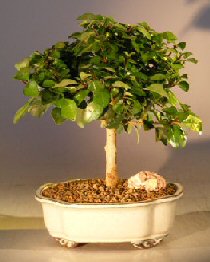 Sale Price: $49.95

From Bonsai Boy of NY
View User Comments
Flowering Parrot's Beak- Medium (gmelina philippensis)
Parrot's Beak, or Gmelina (pronounced with a silent G) has leaves which vary from oval to ivy or "duck foot" shape. It has exotic flowers occasionally which are comprised of yellow blooms which emerge at the end of a tube-like structure of overlapping bracts. The flower resembles a Parrot's Beak, hence the name. The flower pod has one seed. The fruit is fleshy, smooth, yellow, pear-shaped and about 2 centimeters long. Parrot's Peak is native to the Philipine Islands, India and Southeast Asia. Cold tolerant to lower 30s.
You may also be interested in these related Bonsai Trees and supplies:

Watering Can
- Sale Price: $19.95
(2 Liter) Great for bonsai trees outdoor or indoor. Allows water to be dispensed very gently from the many fine drainage holes in the spout.

Flowering Tropical Boxwood Bonsai Tree - Medium (neea buxifolia)
- Sale Price: $39.95
Neea buxifolia is a versatile tree native to Puerto Rico. Commonly spelled "Nia", the botanical name is "Neea". It is a member of the Bouganvillea family with leaves about one quarter inch long and oblong with a rounded apex. This tree is especially attractive during the growing season due to the deep red color of its new shoots. Neea bears small flowers in spring and summer followed by little red mature fruit in summer. Great for indoors.

Juniper Bonsai Tree - Phoenix Graft (juniper procumbens nana)
- Sale Price: $250.00
This dwarf Juniper from Japan is the most popular evergreen in the U.S.A. When we think of a traditional bonsai and what it should look like, we think of a "Juniper Procumbens Nana." It is very hardy, long-lived and tolerates many adverse conditions. Trained as a Phoenix Graft.

Ceramic Miniature Figurine Man Holding Drinking Cup Fine Detail
- Sale Price: $4.95
Ceramic Miniature Figurine Man Holding Drinking Cup.

Oriental Ficus Bonsai Tree Coiled Trunk with Banyan Roots (benjamina 'orientalis')
- Sale Price: $125.00
Fig species which is native to south and southeast Asia. This evergreen tree is particularly good for bonsai training as they produce sturdy trunks, good branching characteristics and shiny leaves. Best to trim the leaves in early summer as the new leaves that subsequently grow will be smaller than the ones removed. Ours is trained in the coiled trunk style. Great for indoors.
User Comments:
There are currently 0 comments.