Flowering Parrot's Beak- Medium (gmelina philippensis)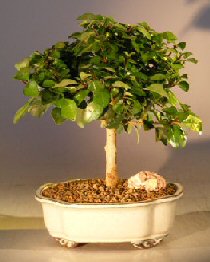 Sale Price: $49.95

From Bonsai Boy of NY
View User Comments
Flowering Parrot's Beak- Medium (gmelina philippensis)
Parrot's Beak, or Gmelina (pronounced with a silent G) has leaves which vary from oval to ivy or "duck foot" shape. It has exotic flowers occasionally which are comprised of yellow blooms which emerge at the end of a tube-like structure of overlapping bracts. The flower resembles a Parrot's Beak, hence the name. The flower pod has one seed. The fruit is fleshy, smooth, yellow, pear-shaped and about 2 centimeters long. Parrot's Peak is native to the Philipine Islands, India and Southeast Asia. Cold tolerant to lower 30s.
You may also be interested in these related Bonsai Trees and supplies:

Ceramic Bonsai Pot With Matching Tray 10.875x4.875x5.25 Tall Blue/Green Color Bathtub Shape
- Sale Price: $36.00
Ceramic Bonsai Pot With Matching Tray

Mini Shoji Screen With Glass Framed Pictures of Japanese Koi on Both Sides
- Sale Price: $29.95
Mini shoji screen with glass framed pictures of Japanese koi on both sides.

Ceramic Bonsai Pot - Oval 16.0x12.5x4.0
- Sale Price: $84.00
Imported glazed Chinese pot, Parisian red, oval

Flowering Fukien Tea Bonsai Tree (ehretia microphylla)
- Sale Price: $295.00
Native to the Fujan province of China. This tree has small white flowers that can bloom at any time. The foliage is dark green and small in size. The flowers turn into red berries that turn darker with age. Trained in the traditional tiered layered style with a curved trunk. Loves the heat and does very well indoors.

Flowering Myrtle Bonsai Tree (myrtus communis)
- Sale Price: $150.00
This evergreen tree is native to southern Europe and has leaves that are only 3-5 cm long. The leaves have a pleasantly fragrant essential oil. The star-like flowers have 5 petals and sepals, and an amazingly large number of stamens. The flower petals are usually white, with globose blue-black berries containing several seeds. Easy indoor care.
User Comments:
There are currently 0 comments.