Flowering Mount Fuji Serissa - Double Tree Planting (serissa foetida)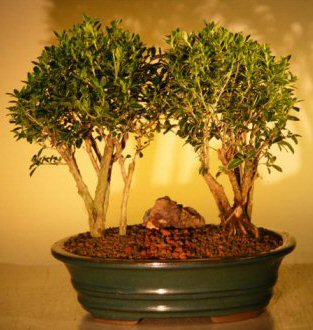 Sale Price: $79.95

From Bonsai Boy of NY
View User Comments
Flowering Mount Fuji Serissa - Double Tree Planting (serissa foetida)
Beautiful white, star-shaped, miniature flowers. This sub-tropical variegated evergreen, which is imported from Japan blooms profusely with delicate white miniature flowers. Double tree planting. Easy indoor maintenance. Excellent for beginners.
You may also be interested in these related Bonsai Trees and supplies:

Willow Leaf Ficus Bonsai Tree - (Ficus Nerifolia/Salisafolia)
- Sale Price: $125.00
Also known as Mexicana Ficus. Elongated, light green leaves have a striking resemblance to the popular Weeping Willow tree. Has a heavy trunk with banyan roots. This tree does particularly well indoors in lower or higher lighting conditions.

Flowering Brush Cherry Bonsai Tree - Small (eugenia myrtifolia)
- Sale Price: $29.95
Also called Syzygium Paniculatum, Australian Brush Cherry. Has small handsome evergreen leaves which are firm and glossy and the flowers are white. If it receives enough light, the leaves will develop red highlights.

Ceramic Bonsai Pot with Attached Tray - Cascade 7.5x7.5
- Sale Price: $24.00
Ceramic bonsai pot, cascade, square, Aztec Orange

Flowering Tropical Boxwood Bonsai Tree (neea buxifolia)
- Sale Price: $275.00
Neea buxifolia is a versatile tree native to Puerto Rico. Commonly spelled "Nia", the botanical name is "Neea". It is a member of the Bouganvillea family with leaves about one quarter inch long and oblong with a rounded apex. This tree is especially attractive during the growing season due to the deep red color of its new shoots. Neea bears small flowers in spring and summer followed by little red mature fruit in summer. Great for indoors.

Ficus Retusa Bonsai Tree with Curved Shaped Trunk (ficus retusa)
- Sale Price: $295.00
Also known as Banyan Fig and Taiwan Ficus. The Retusa has small, dark green leaves which alternate up the stem and which are more oval than the Benjamina. Grey to reddish bark dotted with small, horizontal flecks, similar to tiger-like markings. Has a heavy and tiered branching which give the appearance of great age. The Retusa is among the most tolerant, versatile and trouble-free bonsai trees for indoor use.
User Comments:
There are currently 0 comments.