Flowering Ligustrum Bonsai Tree (ligustrum lucidum)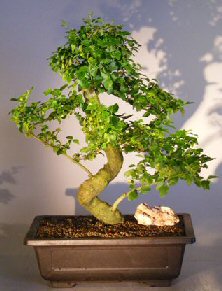 Sale Price: $275.00

From Bonsai Boy of NY
View User Comments
Flowering Ligustrum Bonsai Tree (ligustrum lucidum)
Native to China and Eastern Asia and is now grown ornamentally in the United States. The berry of the Ligustrum has been used as a "yin" tonic in traditional Chinese medicine for a wide range of conditions, including premature aging, ringing in the ears and chronic toxicity. White puffy blooms are attractive during late spring and early summer. Does very well indoors.
You may also be interested in these related Bonsai Trees and supplies:

Oval Mica Bonsai Pot - 14 x 9 3/4 x 4
- Sale Price: $45.95
Mica pots from Korea are made of 80% mica, 15% polyethylene and 5% graphite. Mica has a natural ability to stabilize the temperature of the soil in the pots. This promotes healthy root activity during the growing season and protects during the cold periods. These pots are durable and will withstand the elements for years. The pot has a wide lip and is dark brown in color.

Grow Light Kit - 130 Watt Full daylight spectrum 26 Watt Fluorescent grow-light 130 watt equivalent
- Sale Price: $29.95
Grow bonsai trees, orchids, houseplants, or terrarium anywhere in your home or office with the Dayspot grow light kit. Just clamp the fixture anywhere your plants need extra light. Includes a specially calibrated full spectrum daylight 1800 lumens with a 3000 hour lifespan. The kit comes complete with bulb, designer black fixture with on/off switch and clamp. Just fasten the easy clamp arm fixture anywhere extra light is required. The 130 watt equivalent grow bulb may also be purchased separately and fits in any standard light fixture.

Snowbush Bonsai Tree (breynia disticha)
- Sale Price: $49.95
A relative of the "roseo-picta" cultivars. The Snowbush or Snow-on-the-Mountain as it is commonly called is accented by its leaf size and color, which vary depending on lighting conditions. In moderate light it will produce larger leaves with some white color and a more sparse form. Grown in some sun it will produce smaller leaves, a more dense and compact form, and will have significantly more white and pink in the new and older growth. Easy to care for indoors.

Flowering Tropical Mango Mist Hibiscus - Braided Trunk (rosa sinensis)
- Sale Price: $89.95
Originating in Asia and the Pacific Islands, Hibiscus rosa sinensis is the national flower of Malaysia. It is closely associated with Hawaii, however, the state flower of Hawaii is a native species of hibiscus, H. brackenridgei. There are many colors of hibiscus with various size blossoms. Our hibiscus is trained with a braided trunk and has 2" diameter, orange color blossoms which appear during spring, summer and fall and even during the winter if kept sufficiently warm.

Tropical/Subtropical Mix Bonsai Soil 10 lbs. (5 Qts.)
- Sale Price: $24.95
Blend of ingredients appropriate for potting tropical and sub-tropical species. Packaged in a 10 lb. bag.
User Comments:
There are currently 0 comments.