Flowering Ligustrum Bonsai Tree (ligustrum lucidum)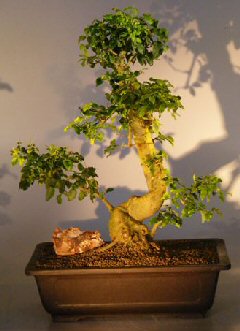 Sale Price: $350.00

From Bonsai Boy of NY
View User Comments
Flowering Ligustrum Bonsai Tree (ligustrum lucidum)
Native to China and Eastern Asia and is now grown ornamentally in the United States. The berry of the Ligustrum has been used as a "yin" tonic in traditional Chinese medicine for a wide range of conditions, including premature aging, ringing in the ears and chronic toxicity. White puffy blooms are attractive during late spring and early summer. Does very well indoors.
You may also be interested in these related Bonsai Trees and supplies:

Professional Bonsai Soil 20 lb. Bag (10 Qts.)
- Sale Price: $39.95
Those who practice the fine art of bonsai have known for years the very special qualities that professional bonsail soil imparts to soil mixes. Its unique properties help provide free passage of air and water to root systems while significantly reducing soil compaction. This unique bonsai soil is produced by expanding and vitrifying selected shale in a rotary kiln at temperatures in excess of 2000 degrees F. This process makes the soil sterile and environmentally inert. It is a natural non-toxic, highly absorbent ceramic granule with a generally neutral PH. It is dimensionally stable and will not degrade like other amending products. There is no need for it to be re-applied year after year. A good bonsai soil profile is approximately 25% water, 25% air and 50% solid particulate matter. However, when soils are compacted, an imbalance occurs. Solid particles are pressed together, and water and air are squeezed out. With less pore space, soils become too dense for the movement of air, water and nutrients, and the favorable environment for the beneficial microbial activity necessary in a healthy growing medium, is lost. Our professional bonsai soil absorbs excess water during rain or watering, then slowly releases this excess water as the soil dries acting in effect like a time release capsule. Use as a blend with your soil mix or by itself.

Ceramic Bonsai Pot - Rectangle 6.5x5.25x2.0
- Sale Price: $8.95
6.5"x2.5"x2.0"

Terra-Sorb Super Absorbent Hydrogel Granules
- Sale Price: $9.95
Terra-sorb hydrogel is a high quality, long lasting potassium acrylamide copolymer gel in granular form that absorbs hundreds of times its weight in water and slowly releases water into the root zone for use by plant roots. Can be used for all potted plants. The use of Terra-sorb reduces watering frequency significantly and helps prevent plant loss due to drought. Terra-sorb is safe, non-toxic and PH neutral. Great for vacation trips. Remove 25% of the existing soil in houseplants and mix 1 tsp to remaining soil and water-in well.

Two Dragon Miniature Figurines 5.0x2.5
- Sale Price: $15.95
Two dragon miniature figurines

Ceramic Miniature Figurine Man Holding Drinking Cup Fine Detail
- Sale Price: $4.95
Ceramic Miniature Figurine Man Holding Drinking Cup.
User Comments:
There are currently 0 comments.