Flowering Ligustrum Bonsai Tree Curved Trunk & Tiered Branching Style (ligustrum lucidum)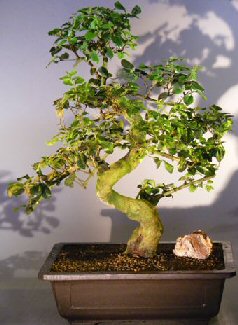 Sale Price: $295.00

From Bonsai Boy of NY
View User Comments
Flowering Ligustrum Bonsai Tree Curved Trunk & Tiered Branching Style (ligustrum lucidum)
Native to China and Eastern Asia and is now grown ornamentally in the United States. The berry of the Ligustrum has been used as a "yin" tonic in traditional Chinese medicine for a wide range of conditions, including premature aging, ringing in the ears and chronic toxicity. White puffy blooms are attractive during late spring and early summer. Does very well indoors.
You may also be interested in these related Bonsai Trees and supplies:

Artificial Crabapple Bonsai Tree
- Sale Price: $59.95
The fruit and branches of this artificial tree are created from luna clay, making them very flexible and, therefore, can be adjusted to your personal preferences or left as shown in the image. The hand-painted fruit is so life-like that you can almost taste the small apples. The trunk is curved and has a nice taper. This tree will retain its beauty for many years to come and can be cleaned with a slightly dampened cloth.

Key Lime Bonsai Tree (citrus aurantifolia)
- Sale Price: $89.95
Also known as Mexican Lime or Bartender's Lime, has a globose fruit 1-2" that is yellow when ripe but usually picked green. It is smaller, seedier, has a higher acidity, a stronger aroma, and a thinner rind than that of the more common Persian Lime. It is valued for its unique flavor compared to other limes, with the Key Lime usually having a more tart flavor. The Key Lime is a small tree with an open habit and heavy crop of fruit that has fragrant flowers and fruits readily on its own. Great for indoors. Popularly used for Key Lime pie.

Green Emerald Ficus Bonsai Tree Banyan Style (ficus microcarpa)
- Sale Price: $275.00
Also known as Green Island Ficus. Has oval to roundish dark green shiny leaves. Easily forms rosetts at the end of its branches if kept trimmed. Branches and fruits well and easily develops aerial roots when kept humid. Different than other ficus varieties in that the leaves are much thicker. Does well in lower or higher lighting conditions. One of our favorites. Easy indoor maintenance.

Ceramic Bonsai Pot - Rectangle Unglazed
- Sale Price: $10.75
Rectangle, unglazed, ceramic bonsai pot. Measures 6.5"x4.5"x2.125"

Juniper Bonsai Tree - Trained (juniper procumbens nana)
- Sale Price: $89.95
This dwarf Juniper from Japan is the most popular evergreen in the U.S. When we think of a traditional bonsai and what it should look like we think of a "Juniper Procumbens Nana". They are very hardy, long-lived and tolerate many adverse conditions. Trained style.
User Comments:
There are currently 0 comments.