Flowering Japanese Mock Orange Bonsai Tree - Variegated (pittosporum tobira variegata)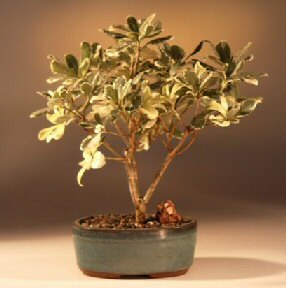 Sale Price: $44.95

From Bonsai Boy of NY
View User Comments
Flowering Japanese Mock Orange Bonsai Tree - Variegated (pittosporum tobira variegata)
The Japanese flowering Mock Orange has thick glossy evergreen leaves that are oblong and in whorls and that are creamy white and green in color. Flowers are rather small, creamy white and very fragrant and give off a fragrance similar to that of the Orange Blossom, hence the name Mock-Orange. At maturity they produce a leathery fruit called a capsule. Does very well indoors.
You may also be interested in these related Bonsai Trees and supplies:

Fisherman Table Top Tiered Water Fountain
- Sale Price: $45.95
Fisherman table top, tiered water fountain. Mesmerizing as the fish bobs in the bubbling water.

Oriental Ficus Bonsai Tree Banyan Style (benjamina 'orientalis')
- Sale Price: $150.00
Our unique specimen bonsai features extensive banyan roots growing down into the soil. This impressive broadleaf, trouble-free evergreen has smaller leaves than the Benjamina. Very easy indoor maintenance.

Ginko Bonsai Tree Seeds
- Sale Price: $4.95
Propagation instructions are included with each packet.

Ficus Retusa Bonsai Tree Curved Trunk & Tiered branching style (ficus retusa)
- Sale Price: $295.00
Also known as Banyan Fig. The Retusa has small, dark green leaves which are more oval than the Benjamina. Grey to reddish bark dotted with small horizontal flecks, similar to tiger-like markings. Has a heavy trunk with and tiered branching. The Retusa is among the most tolerant, versatile and trouble-free bonsai trees for indoor use.

Grapevine Bonsai Tree (cabernet sauvignon)
- Sale Price: $59.95
A remarkable gift to help celebrate any occasion. Bears tiny edible grapes. This wine grape bonsai tree is a living source of delight. It has been cultivated over the years to produce a classic wine grape which hang in clusters from this vineyard treasure. Deciduous, keep outdoors.
User Comments:
There are currently 0 comments.