Flowering Heavenly Bamboo Bonsai Tree (nandina 'firepower')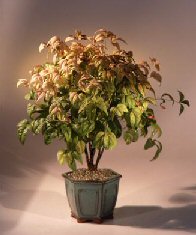 Sale Price: $49.95

From Bonsai Boy of NY
View User Comments
Flowering Heavenly Bamboo Bonsai Tree (nandina 'firepower')
Also known as sacred bamboo and is related to the barberry. This tough as nails evergreen has fine lacy foliage which turns bronze and red in winter. It has unbranched reed-like stems. In spring new foliage appears as bright bronze red and is soon followed by large creamy white flowers. In summer clusters of bright green berries appear and by late summer, the berries ripen to a bright red. Does well indoors. Provide sun to get intense coloring of foliage.
You may also be interested in these related Bonsai Trees and supplies:

Monterey - Single Trunk-Preserved Bonsai Tree (Preserved - Not a living tree)
- Sale Price: $55.95
Please allow up to 14 days for delivery.

Juniper Bonsai Tree - Trained (juniper procumbens nana)
- Sale Price: $89.95
This dwarf Juniper from Japan is the most popular evergreen in the U.S. When we think of a traditional bonsai and what it should look like we think of a "Juniper Procumbens Nana". They are very hardy, long-lived and tolerate many adverse conditions. Trained style.

Flowering Brush Cherry - Ball Style (eugenia myrtifolia)
- Sale Price: $89.95
Also called Syzygium Paniculatum, Australian Brush Cherry. Has small handsome evergreen leaves which are firm and glossy and the flowers are white. If it receives enough light, the leaves will develop red highlights. Does well indoors.

Lavender Star Flower Bonsai Tree (Grewia Occidentalis)
- Sale Price: $225.00
Evergreen tree native to Africa and Australia with 400 species worldwide. Awesome purple/mauve 1" wide flowers borne along the stem at the end of spring and then, occasionally, the rest of the year. Good indoor bonsai tree. Provide some sun to help generate blooms.

Flowering Parrot's Beak- Medium (gmelina philippensis)
- Sale Price: $49.95
Parrot's Beak, or Gmelina (pronounced with a silent G) has leaves which vary from oval to ivy or "duck foot" shape. It has exotic flowers occasionally which are comprised of yellow blooms which emerge at the end of a tube-like structure of overlapping bracts. The flower resembles a Parrot's Beak, hence the name. The flower pod has one seed. The fruit is fleshy, smooth, yellow, pear-shaped and about 2 centimeters long. Parrot's Peak is native to the Philipine Islands, India and Southeast Asia. Cold tolerant to lower 30s.
User Comments:
There are currently 0 comments.