Flowering Fukien Tea Bonsai Tree (ehretia microphylla)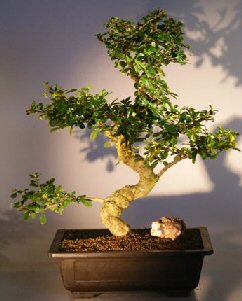 Sale Price: $275.00

From Bonsai Boy of NY
View User Comments
Flowering Fukien Tea Bonsai Tree (ehretia microphylla)
Native to the Fujan province of China. This tree has small white flowers that can bloom at any time. The foliage is dark green and small in size. The flowers turn into red berries that turn darker with age. Trained in the traditional tiered layered style with a curved trunk. Loves the heat and does very well indoors.
You may also be interested in these related Bonsai Trees and supplies:

Ficus Retusa Bonsai Tree - Banyan Style (ficus retusa)
- Sale Price: $250.00
Also known as Banyan Fig. The Retusa has small, dark green leaves which are more oval than the Benjamina. Grey to reddish bark dotted with small horizontal flecks, similar to tiger-like markings. Has a heavy trunk with tiered branching and an extensive banyan root system. The Retusa is among the most tolerant, versatile and trouble-free bonsai trees for indoor use.

Wooden Boy - Handcarved
- Sale Price: $59.95
Handcarved Wooden Boy

Ceramic Snowman Pot 2 x 3
- Sale Price: $7.95
Ceramic Snowman Pot. Unit measures 5.5" x 3" x 4.0". Pot measures 2" x 3" tall.

Dwarf Weeping Hemlock Bonsai Tree (Tsuga Canadensis) 'coles prostmate'
- Sale Price: $250.00
Has overlapping dense, pendulous branches forming a broad arching mound. The Hemlock is a slow growing graceful evergreen conifer with needles that are somewhat similar to those of Yews but smaller and finer. The silver - white branch bark contrasts well with the dark green needle foliage. Hardy and keep outdoors.

Pillow Baby Figurine - Porcelain
- Sale Price: $5.95
Porcelain Pillow Baby
User Comments:
There are currently 0 comments.