Flowering Fukien Tea Bonsai Tree (ehretia microphylla)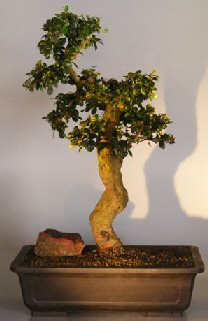 Sale Price: $395.00

From Bonsai Boy of NY
View User Comments
Flowering Fukien Tea Bonsai Tree (ehretia microphylla)
Native to the Fujan province of China. This tree has small white flowers that can bloom at any time. The foliage is dark green and small in size. The flowers turn into red berries that turn darker with age. Trained in the traditional tiered layered style with a curved trunk. Loves the heat and does very well indoors.
You may also be interested in these related Bonsai Trees and supplies:

Ceramic Bonsai Pot - Professional Series Oval 10.0 x 8.0 x 4.0
- Sale Price: $23.95
Imported ceramic bonsai pot

Ceramic Bonsai Pot Rectangle - Blue Color 8.0 x 6.0 x 2.75 Tall
- Sale Price: $9.95
Imported ceramic bonsai pot. Measures 8.0" x 6.0" x 2.75" Tall, Rectangle - Blue color.

Neem Oil Organic Pest Control Concentrate 2 Ounces
- Sale Price: $12.95
The Neem tree is considered to be one of the most promising trees of the 21st century. It has great potential in the fields of pest management, environmental protection and medicine. Used widely as a bio-pesticide for organic farming, as it repels a wide variety of pests, including the mealy bug, aphids, ants and mosquitoes. Use as a repellent and larvacide. Neem oil also controls black spot, powdery mildew and fungus. Dilute at the rate of 4 teaspoons per gallon of water. Adding a surfactant, such as liquid diswashing soap, will enhance its effectiveness. Great for all bonsai trees and household plants.

Italian Cypress Evergreen Bonsai Tree - Medium (cupressus sempervirens)
- Sale Price: $29.95
The Italian Cypress or Mediterranean Cypress is a great indoor bonsai tree which can be grown singularly or in groups. Originally found in the eastern Mediteranean area, this bonsai is susceptible to the cold which means that either you must bring it indoors during the winter or grow it in a fairly warm climate. They feature fine green/gray foliage which actually grows in flattened sprays. They also grow "cool looking" tiny elongated brown cones during the year, something that is somewhat rare in bonsai.

Orange Citrus Bonsai Tree (Calamondin Orange)
- Sale Price: $89.95
Our decorative citrus tree has shiny evergreen leaves and marvelously fragrant white flowers. Miniature fruit (which grows only to the size of a golf ball) and flowers appear over the course of a year, often at the same time. Perfect in stir-fry, beverages or as a snack. Very easy indoor care.
User Comments:
There are currently 0 comments.