Flowering Fukien Tea Bonsai Tree - Curved Trunk (Medium) (ehretia microphylla)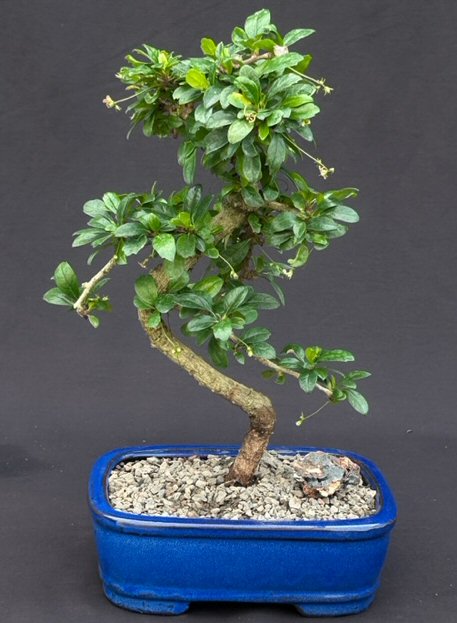 Sale Price: $45.95

From Bonsai Boy of NY
View User Comments
Flowering Fukien Tea Bonsai Tree - Curved Trunk (Medium) (ehretia microphylla)
Native to the Fujan province of China. This tree has small white flowers that can bloom at any time. The foliage is dark green and small in size. The flowers turn into red berries that turn darker with age. Trained in the traditional cloud layered style with a curved. Loves the heat and does great indoors
You may also be interested in these related Bonsai Trees and supplies:

Northern White Cedar (thuja occidentalis - Teddy)
- Sale Price: $39.95
The Northern White Cedar is an evergreen coniferous tree in the Cypress family and is widely cultivated for use as an ornamental tree. This dwarf evergreen tree has finely textured, almost feathery fan-like foliage. Can be gently sheared for perfect spheres or allowed to mature naturally into an oval shape. Blue green coloring is accented with bronze in temperature extremes. The bark is red/brown, furrowed and peels in narrow, longitudal strips. The cones are slender, yellow/green ripening to brown. Great for bonsai as it is a slow growing evergreen. Keep outdoors.

Preserved Juniper Bonsai Tree - Upright Style (Preserved - Not a living tree)
- Sale Price: $59.95
Please allow up to 14 days for delivery.

Oriental Ficus Bonsai Tree Coiled Trunk with Banyan Roots (benjamina 'orientalis')
- Sale Price: $125.00
Fig species which is native to south and southeast Asia. This evergreen tree is particularly good for bonsai training as they produce sturdy trunks, good branching characteristics and shiny leaves. Best to trim the leaves in early summer as the new leaves that subsequently grow will be smaller than the ones removed. Ours is trained in the coiled trunk style. Great for indoors.

Flowering Weeping Pussy Willow Bonsai Tree (salix caprea 'kilmarnock')
- Sale Price: $79.95
A delightful mini Weeping Pussy Willow tree. In early spring the branches are covered with large, fluffy, silvery catkins followed by studded golden anthers. Lovely green foliage follows. Grafted head onto rootstock. Branches arch straight down making a beautiful display in all seasons. Excellent choice to accent a deck, patio or pond. Deciduous. Keep outdoors.

Ceramic Bonsai Pot - Professional Series Oval 10.0 x 8.0 x 4.0
- Sale Price: $23.95
Imported ceramic bonsai pot
User Comments:
There are currently 0 comments.