Flowering Fukien Tea Bonsai Tree - Curved Trunk (Medium) (ehretia microphylla)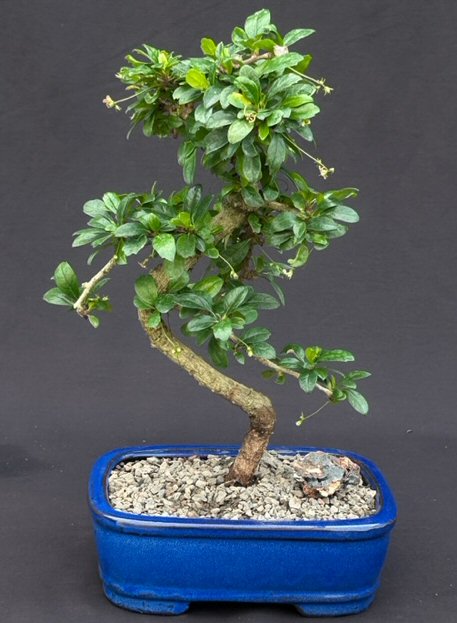 Sale Price: $45.95

From Bonsai Boy of NY
View User Comments
Flowering Fukien Tea Bonsai Tree - Curved Trunk (Medium) (ehretia microphylla)
Native to the Fujan province of China. This tree has small white flowers that can bloom at any time. The foliage is dark green and small in size. The flowers turn into red berries that turn darker with age. Trained in the traditional cloud layered style with a curved. Loves the heat and does great indoors
You may also be interested in these related Bonsai Trees and supplies:

Fukien Tea Flowering Bonsai Tree Curved Trunk - Extra Large (ehretia microphylla)
- Sale Price: $125.00
Native to the Fujan province of China. This tree has small white flowers that can bloom at any time. The foliage is dark green and small in size. The flowers turn into red berries that turn darker with age. Trained in the traditional cloud layer style with a curved trunk. Loves the heat and does great indoors.

Oval Mica Bonsai Pot - 14 x 9 3/4 x 4
- Sale Price: $45.95
Mica pots from Korea are made of 80% mica, 15% polyethylene and 5% graphite. Mica has a natural ability to stabilize the temperature of the soil in the pots. This promotes healthy root activity during the growing season and protects during the cold periods. These pots are durable and will withstand the elements for years. The pot has a wide lip and is dark brown in color.

Juniper Bonsai Tree (juniper procumbens nana)
- Sale Price: $89.95
This dwarf Juniper from Japan is the most popular evergreen in the U.S.A. When we think of a traditional bonsai and what it should look like, we think of a "Juniper Procumbens Nana." It is very hardy, long-lived and tolerates many adverse conditions. Trained in the traditional curved style, this is an excellent tree for the beginner.

Ficus Retusa Bonsai Tree with Curved Shaped Trunk (ficus retusa)
- Sale Price: $295.00
Also known as Banyan Fig and Taiwan Ficus. The Retusa has small, dark green leaves which alternate up the stem and which are more oval than the Benjamina. Grey to reddish bark dotted with small, horizontal flecks, similar to tiger-like markings. Has a heavy and tiered branching which give the appearance of great age. The Retusa is among the most tolerant, versatile and trouble-free bonsai trees for indoor use.

Ceramic Bonsai Pot - Land/Water with Scalloped Edges 12.0 x 9.5 x 3.0
- Sale Price: $18.00
Imported, glazed Chinese ceramic land/water pot. Oval, dark moss green color with scalloped edges
User Comments:
There are currently 0 comments.