Flowering Devil's Backbone Bonsai Tree (pidilanthus tithymaloides - variegated)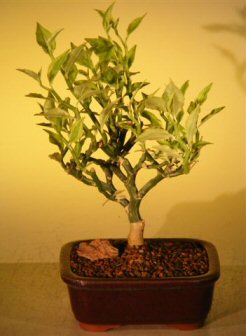 Sale Price: $39.95

From Bonsai Boy of NY
View User Comments
Flowering Devil's Backbone Bonsai Tree (pidilanthus tithymaloides - variegated)
The Devil's Backbone is a succulent tropical tree that does very well indoors and never complains about the lack of attention. Roots easily in water or moist soil. When placed in a sunny location, its variegated foliage becomes more pink and the tree will be covered in tiny red blooms which Ruby Throats and othe humming birds love. Pinch off center leaves to promote fuller growth.
You may also be interested in these related Bonsai Trees and supplies:

Ceramic Bonsai Pot With Matching Tray 11.25x7.5 Tall Mustard Color Round
- Sale Price: $66.00
Ceramic Bonsai Pot With Matching Tray

Green Emerald Ficus Bonsai Tree-Root over Rock (ficus microcarpa)
- Sale Price: $99.95
Also known as Green Island Ficus. Has oval to roundish dark green shiny leaves. Easily forms rosetts at the end of its branches if kept trimmed. Branches and fruits well and easily develops aerial roots when kept humid. Different than other Ficus varieties in that the leaves are much thicker. Does well in lower, medium or high lighting conditions. Ours has exposed roots growing over a textured rock and down into the soil. One of our favorites. Very easy indoor maintenance.

Zinc Watering Can - Pastel Green Color 9.5 x 5.5 10.0 Tall
- Sale Price: $29.95
Zinc watering can with removable fine spray rose head.

Mica Bonsai Pot - Round - 14 x 4
- Sale Price: $79.95
Mica Pots imported from Korea are made of 80% Mica, 15% Polyethelene and 5% Graphite. Mica has a natural ability to stabilize the temperature of the soil in the pots. This promotes healthy root activity during the growing season and protects during the cold periods. These pots are extremely durable and will withstand the elements for years. The pot has a wide lip and is dark brown in color.

Miniature Figurine: Man with Pipe - Blue and White Color -Fine Detail
- Sale Price: $5.95
Miniature Figurine Man with pipe- Blue and White Color with Fine Detail.
User Comments:
There are currently 0 comments.