Flowering Devil's Backbone Bonsai Tree (pidilanthus tithymaloides - variegated)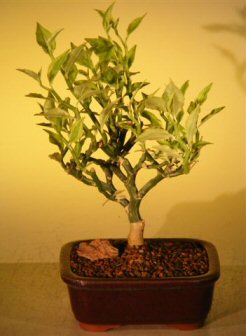 Sale Price: $39.95

From Bonsai Boy of NY
View User Comments
Flowering Devil's Backbone Bonsai Tree (pidilanthus tithymaloides - variegated)
The Devil's Backbone is a succulent tropical tree that does very well indoors and never complains about the lack of attention. Roots easily in water or moist soil. When placed in a sunny location, its variegated foliage becomes more pink and the tree will be covered in tiny red blooms which Ruby Throats and othe humming birds love. Pinch off center leaves to promote fuller growth.
You may also be interested in these related Bonsai Trees and supplies:

Dwarf Flowering Water Jasmine (wrightia vietnamensis)
- Sale Price: $59.95
This rare variety of the famous Wrightia is also known as the Dwarf Sacred Buddhist. It is perfect for bonsai and for everyone who has limited space but wants to enjoy Wrightia fragrance. The perfume is sweet and heavy. It has small leaves and small, white, single, fragrant flowers. Can tolerate some cool temperatures for a short period but is sensitive to freezing.

Flowering Mount Fuji Serissa Bonsai Tree - Medium Stone Landscape Scene (serissa foetida)
- Sale Price: $59.95
The rocks selected for this unusual arrangement are imported and washed in acid, making them strikingly unique. We then cut and cement the rocks to one side of the pot and create a well on the opposite side. A ceramic bridge is cemented to the rocks on either side. A pagoda figurine is also added and cemented to the stone located above the bridge. To complete the scene, we cement a miniature, glazed, mud figurine fisherman overlooking the well, holding a fishing pole and fish. On the opposite side of the restful scene, we have selected for planting, the flowering Mount Fuji Serissa bonsai which blooms easily. An excellent indoor bonsai tree for home or office.

Ceramic Bonsai Pot - Oval 14.0x11.5x4.0
- Sale Price: $72.00
Imported glazed Chinese pot, dark moss green color, oval

Ceramic Bonsai Pot - Rectangle Unglazed 8x6.125x2.5
- Sale Price: $10.75
Rectangle, unglazed, ceramic bonsai pot. Measures 8"x6.125"x2.5"

Wooden Display Table - 12 x 7.5 x 4 tall
- Sale Price: $114.95
Wooden display table. Made in China. Semi-gloss finish.
User Comments:
There are currently 0 comments.