Flowering Devil's Backbone Bonsai Tree (pidilanthus tithymaloides - variegated)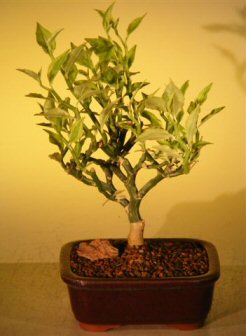 Sale Price: $39.95

From Bonsai Boy of NY
View User Comments
Flowering Devil's Backbone Bonsai Tree (pidilanthus tithymaloides - variegated)
The Devil's Backbone is a succulent tropical tree that does very well indoors and never complains about the lack of attention. Roots easily in water or moist soil. When placed in a sunny location, its variegated foliage becomes more pink and the tree will be covered in tiny red blooms which Ruby Throats and othe humming birds love. Pinch off center leaves to promote fuller growth.
You may also be interested in these related Bonsai Trees and supplies:

Flowering Brush Cherry Bonsai Tree Five Tree Forest Group (eugenia myrtifolia)
- Sale Price: $129.95
Also called Australian Brush Cherry. Has small handsome evergreen leaves (great for bonsai) which are firm and glossy and the flowers are puffy white. If it receives enough light, the leaves will develop red highlights.

Juniper Bonsai Tree - Trained (juniper procumbens nana)
- Sale Price: $89.95
This dwarf Juniper from Japan is the most popular evergreen in the U.S. When we think of a traditional bonsai and what it should look like we think of a "Juniper Procumbens Nana". They are very hardy, long-lived and tolerate many adverse conditions. Trained style.

Ficus Oriental - Root Over Rock (Ficus Orientalis)
- Sale Price: $59.95
Miniature cultivar of the popular Ficus Benjamina with very small evergreen leaves and compact growth habit. Trained in the root over rock style. Great for indoors.

Open Terrarium Indoor Foliage Arrangement
- Sale Price: $49.95
A terrarium is a small, sometimes enclosed, glass or plastic container in which living plants are kept for display. Generally they are miniature, self-sufficient environments. Closed terrariums recycle moisture with high efficiency, but they are more prone to disease than are open terrariums. Open terrariums should be lightly watered or heavily misted every few days and will do very well on a windowsill or on a table near a window.

Growing Bonsai Indoors By Brooklyn Botanical Gardens
- Sale Price: $14.95
Growing Bonsai Indoors is an introduction to beautiful tropical and subtropical bonsai that can thrive inside your home year-round. Tailored to the needs of first time bonsai growers, this hands-on guide explains step-by-step how to make indoor bonsai flourish. You'll find a thorough overview of the most common bonsai styles fully illustrated with color photos and line drawings, as well as advice on wiring and prunning from renowned experts. This handy guide also serves as a helpful reference for buying bonsai and connecting with other enthusiastics locally and around the world.
User Comments:
There are currently 0 comments.