Flowering Devil's Backbone Bonsai Tree (pidilanthus tithymaloides - variegated)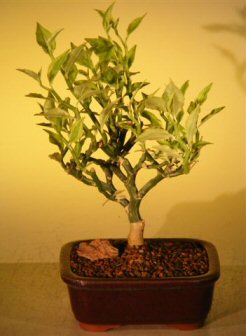 Sale Price: $39.95

From Bonsai Boy of NY
View User Comments
Flowering Devil's Backbone Bonsai Tree (pidilanthus tithymaloides - variegated)
The Devil's Backbone is a succulent tropical tree that does very well indoors and never complains about the lack of attention. Roots easily in water or moist soil. When placed in a sunny location, its variegated foliage becomes more pink and the tree will be covered in tiny red blooms which Ruby Throats and othe humming birds love. Pinch off center leaves to promote fuller growth.
You may also be interested in these related Bonsai Trees and supplies:

Stainless Steel Sieve Set 4 Pieces With 3 Screens
- Sale Price: $49.95
Stainless steel 4 piece sieve set with 3 screens. Used to sift soil, gravel, mulch, akadama and grit.

Bonsai Display Table - 15 x 11 x 3.75
- Sale Price: $99.95
Beautifully hand-crafted Pecky Cypress display table. The pecky effect is a kind of sculpturing process which has been produced by nature. Once the tree has been harvested, the causative agent within the tree completely disappears leaving only the characteristic pocketing it formerly created. The beautiful grains of knotty effects will serve to enhance the beauty of your favorite bonsai tree.

Pre Bonsai Juniper Bonsai Tree - Staked (Juniper Procumbens nana)
- Sale Price: $29.95

Humidity/Drip Bonsai Tray 13.25x9.5x0.5
- Sale Price: $16.95
A finishing, practical addition to your bonsai living sculpture. Not only do they visually enhance the placement of your tree, but humidity/drip trays make watering simple, provide essential humidity for your tree and protect furniture from stain and damage.

Flowering Tropical Boxwood Bonsai Tree - Small (neea buxifolia)
- Sale Price: $24.95
Neea buxifolia is a versatile tree native to Puerto Rico. Commonly spelled "Nia", the botanical name is "Neea". It is a member of the Bouganvillea family with leaves about one quarter inch long and oblong with a rounded apex. This tree is especially attractive during the growing season due to the deep red color of its new shoots. Neea bears small flowers in spring and summer followed by little red mature fruit in summer. Great for indoors.
User Comments:
There are currently 0 comments.