Flowering Crown of Thorns Bonsai Tree - Red / Salmon (euphorbia milii)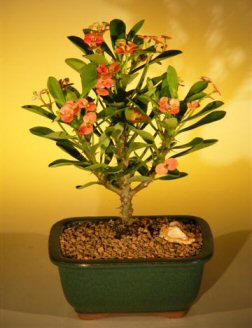 Sale Price: $29.95

From Bonsai Boy of NY
View User Comments
Flowering Crown of Thorns Bonsai Tree - Red / Salmon (euphorbia milii)
The Crown of Thorns is a spiny, succulent bonsai that flowers nearly all year. The common name alludes to the legend that the euphorbi milii worn by Christ at the time of his crucifixion was made from stems of this plant. The red / Salmon flowers are small and the brightly colored modified leaves (bracts) found just beneath the flowers are quite attractive. Very easly indoor care. Requires water only weekly.
You may also be interested in these related Bonsai Trees and supplies:

Replacement Lamp (for Desktop Grow Light)
- Sale Price: $16.95
Replacement Lamp for Desktop Grow Light

Willow Leaf Ficus Bonsai Tree 3 Tree Forest Group - Small (ficus nerifolia/salicafolia)
- Sale Price: $52.95
Also known as Mexicana Ficus. Elongated, light green leaves have a striking resemblance to the popular weeping willow tree. This tree does particularly well in low, moderate or high lighting conditions.

Copper Watering Can - 2 Pint (1 Liter)
- Sale Price: $149.95
A beautifully designed watering can imported from England which is constructed from a sheet of pure copper -- rolled and shaped in the unique English style. The can is supplied with a removable very fine brass rose which is fitted with the perforated head facing up in order to provide the most gentle spray for your bonsai, household plants or delicate seedlings.

Flowering Brush Cherry - Christmas Tree Style - Includes Holiday Decorations (eugenia myrtifolia)
- Sale Price: $99.95
Also called Syzgium Paniculatum, Australian Brush Cherry. Has small handsome evergreen leaves which are firm and glossy. White puffy blooms are attractive in spring and summer. If it receives enough light, the leaves will develop red highlights. Great for indoors.

Bonsai Display Table 11.75 x 8.75 x 2.25
- Sale Price: $89.00
This beautifully handcrafted, dark brown display table is fashioned from hardwood and bears the trade name of Merabu. The botanical name is Intsia. As a hardwood, Merabu is one of the world's most stable woods, rivaling the stability of Teak and is 150% as hard as Red Oak. Not only is it an attractive accessory, but it has vital strength properties comparable to that of European Beech and better than many other joining timbers. The grain and growth ring figure of Merabu, together with its dark red-brown color, make it a fitting enhancement to the display of your bonsai tree.
User Comments:
There are currently 0 comments.