Flowering Crown of Thorns Bonsai Tree - Red / Salmon (euphorbia milii)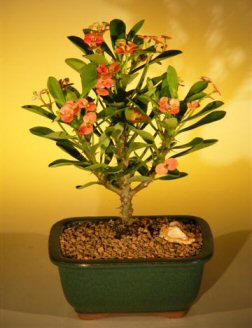 Sale Price: $29.95

From Bonsai Boy of NY
View User Comments
Flowering Crown of Thorns Bonsai Tree - Red / Salmon (euphorbia milii)
The Crown of Thorns is a spiny, succulent bonsai that flowers nearly all year. The common name alludes to the legend that the euphorbi milii worn by Christ at the time of his crucifixion was made from stems of this plant. The red / Salmon flowers are small and the brightly colored modified leaves (bracts) found just beneath the flowers are quite attractive. Very easly indoor care. Requires water only weekly.
You may also be interested in these related Bonsai Trees and supplies:

Italian Cypress Evergreen Bonsai Tree - Medium Five Tree Forest Group (cupressus sempervirens)
- Sale Price: $79.95
The Italian Cypress or Mediterranean Cypress is a great indoor bonsai tree which can be grown singularly or in groups. Originally found in the eastern Mediteranean area, this bonsai is susceptible to the cold which means that either you must bring it indoors during the winter or grow it in a fairly warm climate. These bonsai look amazing when grown in small forest groups. They feature fine green/gray foliage which actually grows in flattened sprays. They also grow "cool looking" tiny elongated brown cones during the year, something that is somewhat rare in bonsai.

Flowering Orange Jasmine - Large ('murraya paniculata')
- Sale Price: $69.95
The Orange Jasmine (murraya paniculata), also known as "satinwood", is a small tree that belongs to the Rue family. The very fragrant white "orange blossom" flowers stand out against the evergreen dark foliage. This evergreen tree flowers at intervals throughout the year and produces fragrant orange jasmine scented flowers and striking bright orange-to-red fruit. It makes an outstanding indoor flowering bonsai tree due to its compact habit and dense glossy green foliage.

Utility Shears Made in China
- Sale Price: $19.95
Made in China. A small shear for pruning small branches and or foliage. Blades are very sharp and maintain their sharpness for many years, soft stainless steel blades; soft plastic handles. 2 1/2" blades. 6" overall. $14.95

Two Men Sitting Ceramic Figurine - 1
- Sale Price: $1.95
Ceramic Figurine. Two Men Sitting.

Juniper Bonsai Tree - Trained (juniper procumbens nana)
- Sale Price: $89.95
This dwarf Juniper from Japan is the most popular evergreen in the U.S. When we think of a traditional bonsai and what it should look like we think of a "Juniper Procumbens Nana". They are very hardy, long-lived and tolerate many adverse conditions. Trained style.
User Comments:
There are currently 0 comments.