Flowering Crown of Thorns Bonsai Tree - Red / Salmon (euphorbia milii)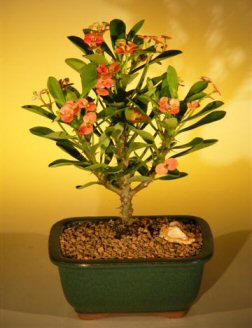 Sale Price: $29.95

From Bonsai Boy of NY
View User Comments
Flowering Crown of Thorns Bonsai Tree - Red / Salmon (euphorbia milii)
The Crown of Thorns is a spiny, succulent bonsai that flowers nearly all year. The common name alludes to the legend that the euphorbi milii worn by Christ at the time of his crucifixion was made from stems of this plant. The red / Salmon flowers are small and the brightly colored modified leaves (bracts) found just beneath the flowers are quite attractive. Very easly indoor care. Requires water only weekly.
You may also be interested in these related Bonsai Trees and supplies:

Hawaiian Umbrella Bonsai Tree - Banyan Style - Large (arboricola schefflera)
- Sale Price: $69.95
This is the tree that we recommend if you are inexperienced with bonsai or you do not have a green thumb. In our opinion it is one of the easiest bonsai trees to care for and is a very beautiful trouble-free evergreen. If you don't know which tree to purchase as a gift for someone, this is the tree to select. This versatile tree is great for home, office, dorm or anywhere and does well in lower or higher lighting conditions. Our tree features tiny umbrella shaped leaves forming a dense green canopy. This impressive trouble-free evergreen has exposed banyan roots growing down into the soil. Very popular and easy to care for.

Juniper in a Lava Rock (Juniper Procumbens nana)
- Sale Price: $59.95
We grow the Juniper in lava-rock (pumice stone) by boring a hole in the rock and sawing flat the bottom of the stone. Since the lava-rock is porous the rock serves the same purpose as the bonsai pot. When we think of a traditional bonsai and what it should look like, we think of a Juniper Procumbens. They are hardy and long-lived and tolerate many adverse conditions. Popular and unique.

Pre Bonsai Juniper Bonsai Tree-Small (Juniper Procumbens nana)
- Sale Price: $8.95

Flowering Dwarf Pomegranate - Medium (Punica Granatum)
- Sale Price: $49.95
Sub-tropical deciduous tree grown for its brilliant orange-red trumpet-like flowers followed in fall by ornamental, small, spherical-like orange-red fruits. Has dark green leaves with shades of bronze. Slow to moderate grower. Full sun. Will drop all or most of its foliage during winter. Cold hardy through Zone 7

Ficus Bonsai Tree Forest Group - Variegated (ficus benjamina)
- Sale Price: $150.00
This popular evergreen bonsai is recommended for home or office and does well in lower or higher lighting conditions. Forest group style with variegated foliage.
User Comments:
There are currently 0 comments.