Flowering Crabapple (Malus Sargenti)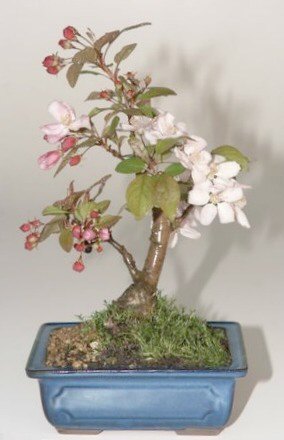 Sale Price: $89.95

From Bonsai Boy of NY
View User Comments
Flowering Crabapple (Malus Sargenti)
Flowering crabapples are one of the best flowering trees for bonsai. They produce beautiful white, fragrant flowers covering the entire tree in early spring before the foliage appears. The foliage is really small and lobed. Little green pomes (apples) appear in summer, derived from the enlargement of the entire flower receptacle which becomes fleshy. The fruit ripens to all different colors in the fall when the foliage begins to turn to shades of yellow, orange and red. Winter brings a nice twiggy skeletal outline punctuated by the fruit which persists throughout the winter. They are easy to grow and quite pest and disease resistant. Deciduous. Keep outdoors. Available 12 months a year. Will have no foliage during winter months.
You may also be interested in these related Bonsai Trees and supplies:

Humidity/Drip Bonsai Tray - Oval Measures: 17 x 12 x 1.5
- Sale Price: $19.95
A finishing, practical addition to your bonsai living sculpture. Not only do they visually enhance the placement of your tree, but humidity drip trays make watering simple, provide essential humidity for your tree and protect furniture from stain and damage.

Round Petal Shape - Glazed Aztec Orange 6.0x4.75x2.5
- Sale Price: $13.25
Professional grade

Preserved Juniper Bonsai Tree - Forest Group Style (Preserved - Not a living tree)
- Sale Price: $299.95
Please allow up to 14 days for delivery.

Ceramic Figurine - Man Sitting at Table
- Sale Price: $4.95
Miniature figurine - man sitting at a table with a teapot and a book and holding a teacup. Blue glaze with fine detail.

Dwarf Black Spruce (Picca Mariana 'Nana')
- Sale Price: $79.95
Picca Mariana, commonly called Black Spruce, is a conical evergreen native to Alaska and Canada. 'Nana' is a slow-growing dwarf cultivar that forms a dense, rounded, hassock shaped mound. Grows only about 1.0" a year. Great outdoor ornamental evergreen bonsai.
User Comments:
There are currently 0 comments.