Flowering Crabapple (Malus Sargenti)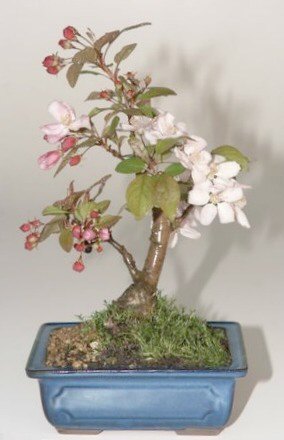 Sale Price: $89.95

From Bonsai Boy of NY
View User Comments
Flowering Crabapple (Malus Sargenti)
Flowering crabapples are one of the best flowering trees for bonsai. They produce beautiful white, fragrant flowers covering the entire tree in early spring before the foliage appears. The foliage is really small and lobed. Little green pomes (apples) appear in summer, derived from the enlargement of the entire flower receptacle which becomes fleshy. The fruit ripens to all different colors in the fall when the foliage begins to turn to shades of yellow, orange and red. Winter brings a nice twiggy skeletal outline punctuated by the fruit which persists throughout the winter. They are easy to grow and quite pest and disease resistant. Deciduous. Keep outdoors. Available 12 months a year. Will have no foliage during winter months.
You may also be interested in these related Bonsai Trees and supplies:

Flowering Ligustrum Bonsai Tree (ligustrum lucidum)
- Sale Price: $350.00
Native to China and Eastern Asia and is now grown ornamentally in the United States. The berry of the Ligustrum has been used as a "yin" tonic in traditional Chinese medicine for a wide range of conditions, including premature aging, ringing in the ears and chronic toxicity. White puffy blooms are attractive during late spring and early summer. Does very well indoors.

Miniature Ceramic Figurine Two Women Sitting at a Table Color: Red & Green
- Sale Price: $14.95
Miniature Ceramic Figurine: Two women Sitting at a Table.

Ceramic Bonsai Pot - Rectangle 14.0x11.5x4.0
- Sale Price: $72.00
Imported glazed Chinese pot, Aztec orange color, rectangle

Ceramic Bonsai Pot - Land/Water 12.0 x 9.5 x 4.0
- Sale Price: $20.95
Imported, glazed, ceramic land/water pot. Beige color.

Neem Oil Organic Pest Control Concentrate 8 Ounces
- Sale Price: $21.95
The Neem tree is considered to be one of the most promising trees of the 21st century. It has great potential in the fields of pest management, environmental protection and medicine. Used widely as a bio-pesticide for organic farming, as it repels a wide variety of pests, including the mealy bug, aphids, ants and mosquitoes. Use as a repellent and larvacide. Neem oil also controls black spot, powdery mildew and fungus. Dilute at the rate of 4 teaspoons per gallon of water. Adding a surfactant, such as liquid diswashing soap, will enhance its effectiveness. Great for all bonsai trees and household plants.
User Comments:
There are currently 0 comments.