Flowering Chinese Fringe Bonsai Tree (loropetalum chinensis)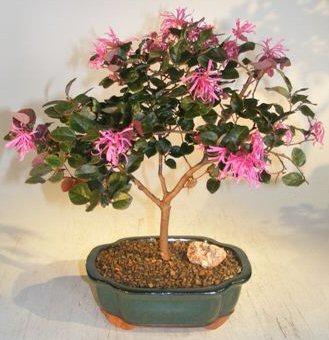 Sale Price: $49.95

From Bonsai Boy of NY
View User Comments
Flowering Chinese Fringe Bonsai Tree (loropetalum chinensis)
Native to the tropical areas of Asia, this unique evergreen has small burgundy colored leaves that turn green as they mature. The Chinese Fringe, which is a relative of the Witch Hazel, produces fragrant clusters of ruby-red/pink flowers in the spring. Likes direct or indirect light and is cold hardy in temperatures just above freezing. The exfoliating bark on mature trees is most attractive. Great flowering bonsai tree for indoors.
You may also be interested in these related Bonsai Trees and supplies:

Buddha's Ear (alocacia cuculata)
- Sale Price: $26.95
Also known as Buddha's First Lily, Chinese Taro or Buddha's Hand . A small elephant ear with thick, shiny, green heart shaped leaves that resemble elf hats each with curly-cue, twisted tips and upturn leaf margins. Does very well indoors (45F.-85F. temperatures) in low or medium lighting conditions.

Miniature Glass Horse Figurine
- Sale Price: $6.95
Miniature glass horse figurine

Humidity/Drip Tray Bonsai Pebbles - Large 3.0 lbs.
- Sale Price: $14.95
It is a good idea to add water to your bonsai humidity/drip tray. It is also a good idea to raise your bonsai pot out of the water by lining your tray with River pebbles.

Flowering Chinese Perfume Bonsai Tree (aglaia orodata)
- Sale Price: $44.95
This aromatic tree which is native to China is classified as near threatened. The Perfume tree is a rare species and a member of the mahogany family. The Perfume tree resembles the Orange Jasmine and has highly lemon scented (sometimes called Mock Lemon) very small yellow blooms that can be enjoyed several times a year. Aglaia has many medicinal uses: orodine and ororinol obtained from this plant has cancer chemo preventative activity. Very easy to grow indoor bonsai tree.

Miniature Ceramic Figurine Man Reading Book - Blue Robe (Small)
- Sale Price: $3.95
Miniature ceramic figurine of man reading a book and wearing a blue robe.
User Comments:
There are currently 0 comments.