Flowering Brush Cherry Bonsai Tree Seven Tree Forest Group (eugenia myrtifolia)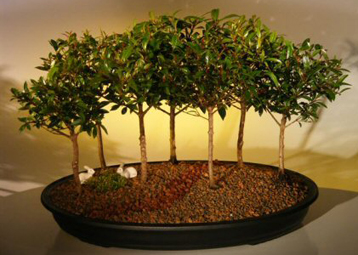 Sale Price: $159.95

From Bonsai Boy of NY
View User Comments
Flowering Brush Cherry Bonsai Tree Seven Tree Forest Group (eugenia myrtifolia)
Also called Australian Brush Cherry. Has small handsome evergreen leaves (great for bonsai) which are firm and glossy and the flowers are puffy white. If it receives enough light, the leaves will develop red highlights.
You may also be interested in these related Bonsai Trees and supplies:

Miniature Bonsai Tree Treasure Box
- Sale Price: $9.95
Miniature bonsai tree treasure box. Opens with hinge to reveal a seed inside inscribed with the word "Seed"....a reminder that even the smallest of wishes planted in your mind can lead to the most beautiful creations in life.

Flowering Mount Fuji Serissa - Medium (serissa foetida)
- Sale Price: $59.95
Beautiful white, star-shaped, miniature flowers. This sub-tropical variegated evergreen, which is imported from Japan, can bloom profusely with delicate white miniature flowers. Excellent for beginners.

Two Horse-Dragon Miniature Figurines 5.0x2.0x2.0
- Sale Price: $14.95

Ficus Retusa Bonsai Tree Banyan Style (ficus retusa)
- Sale Price: $175.00
Also known as Banyan Fig. The Retusa has small, dark green leaves which are more oval than the Benjamina. Grey to reddish bark dotted with small horizontal flecks, similar to tiger-like markings. Has a heavy trunk . The Retusa is among the most tolerant, versatile and trouble-free bonsai trees for indoor use.

Ceramic Bonsai Pot - Rectangle 7.0 x 5.5 x 2.4
- Sale Price: $10.00
Imported ceramic bonsai pot.
User Comments:
There are currently 0 comments.